Saturday, December 6, 2008
FRIARS SWEEP WEEKEND SERIES WITH 4-1 WIN AT MAINE
Four different players score goals for PC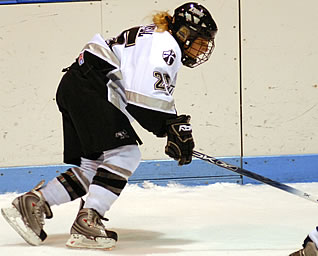 Jean O'Neill tallied the game-winning goal for PC
Orono, Maine - The University of Maine women's ice hockey team fell 4-1 to Providence College on Saturday afternoon. With the loss, the Black Bears drop to 3-13-1 on the season and 1-7-1 in Hockey East. The Friars improve to 9-6-2 on the season and 5-2-1 in conference play. Maine was led by Jenna Ouellette (Winnipeg, Manitoba) who scored the Black Bears' lone goal of the evening.
After a scoreless first period, Providence broke the ice with a goal by freshman Laura Veharanta from Ashley Cottrell, her 12th of the season. The Friars extended their lead after Pamela McDevitt released a backhanded shot that goaltender Genevieve Turgeon (Lac Beauport, Quebec) knocked away, but Jean O'Neill crashed towards the open puck to the right of the net to knock it in.
Down 2-0, the Black Bears cut the lead in half with a powerplay goal by Ouellette, her seventh goal of the season. Jessica Bond (Namur, Quebec) set up a slap shot by Lexie Hoffmeyer (Grand Blanc, Mich.) that Provedence goaltender Genevieve Lacasse batted to her right where Ouellette was waiting to knock it in for the score. The Friars put the game on ice with two more goals in the third period, one of which came against an empty net, to coast to a 4-1 victory.
Hoffmeyer and Bond notched their ninth and fourth assists, respectively. Turgeon made 27 saves and gave up three goals as she dropped to 2-12-1 on the season. The Friars out shot Maine 31-11.
Maine will join the men's ice hockey team for back-to-back double-headers versus Union next weekend. The ladies will skate first each day, starting at 2 p.m.