PROVIDENCE COLLEGE DOWNS MAINE, 4-1
Freshman Laura Veharanta scores game-winner, adds two assists for Friars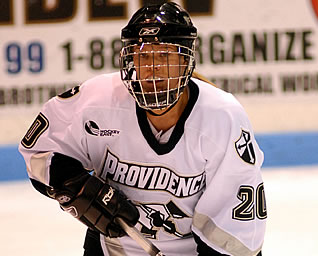 Mari Pehkonen scored a goal for the Friars
ORONO, Maine - The University of Maine women's ice hockey dropped a 4-1 decision to Providence College on Friday night. With the loss, the Black Bears fall to 3-12-1 on the season and 1-6-1 in Hockey East. The Friars improve to 8-6-2 on the season and 4-2-1 in conference play. Maine was led by Vanessa Vani (St. Catharines, Ontario) who scored the Black Bears' lone goal of the evening.
Maine broke open the game with a powerplay goal 7:18 into the first period. Vani won the faceoff to the right of the goal with a pass back to sophomore Jennie Gallo (Castlegar, British Columbia). Gallo skated backwards and threw a cross ice pass to Vani who had dropped back to the goalie's left. Vani wound up and delivered a shot that goaltender Genevieve Lacasse seemed to stop with her leg pads, but the puck trickled through into the net for Vani's third goal of the season.
Providence evened the score with a Jackie Duncan goal seven minutes later from Colleen Martin. With the scored tied at 1-1 entering the second period, Black Bear goaltender Genevieve Turgeon (Lac Beauport, Quebec) left the net to field a puck behind the goal. Turgeon's pass to an approaching teammate got broken up and allowed Laura Veharanta to scoop it up for a wrap-around goal that caught Turgeon out-of-position to make it 2-1 Friars. From there Providence netted two more goals over the remainder of the contest to skate to a 4-1 victory.
Gallo's assist was her sixth of the season. Turgeon made 35 saves, but fell to 2-11-1 on the season. The Friars out shot Maine 39-29.
The Black Bears host Providence once again tomorrow afternoon at 2 p.m. in their final Hockey East match up of the year.