Saturday, October 4, 2008
MAINE DEFEATED BY NORTH DAKOTA, 7-3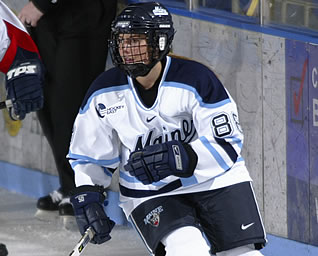 Jenna Ouellette had a goal for Maine
Orono, Maine - The University of Maine women's ice hockey team fell to the University of North Dakota 7-3 in the second game of the 2008-09 season. Maine drops to 1-1-0 on the season while North Dakota rises to 1-1-0. The Black Bears were led by Jenna Ouellette (Winnipeg, Manitoba) who gave Maine its only lead with a goal in the first period.
The Fighting Sioux jumped out to an early lead when Margot Miller (West Bloomfield, Mich.) scored only four minutes into the game. The Black Bears rallied with quick goals by Amy Stech (Duluth, Minn.) and Ouellette only two minutes later, making it 2-1. Maine couldn't hold on, as North Dakota scored five consecutive goals to put the game out of reach.
Senior goaltender Genevieve Turgeon (Lac Beauport, Quebec) weathered a storm of shots from the Fighting Sioux, making 46 saves for the second consecutive night.
Maine only had 19 shots on goal, but scored three times, including a Vanessa Vani (St. Catharines, Ontario) power play goal in the third period to bring the score to 6-3. Stech and Ouellette have two goals each on the season.
The Black Bears return to the ice on October 10th, for the first of two games at Minnesota State - Mankato at 7 pm. Maine coach Dan Lichterman spent four seasons as assistant coach for the Mavericks before coming to Maine.