TURGEON BACKSTOPS MAINE TO 3-2 WIN OVER NORTH DAKOTA
Senior Genevieve Turgeon makes 46 saves in Black Bear net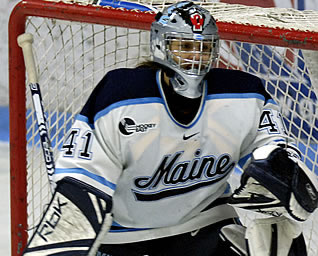 Senior Genevieve Turgeon made 46 saves for the Black Bears
Orono, Maine - The University of Maine women's ice hockey team won 3-2 over the University of North Dakota in the first regular season game of 2008-09. With the win, Maine goes to 1-0-0 on the season while North Dakota falls to 0-1-0. Maine was led by Genevieve Turgeon (Lac Beauport, Quebec) who made 46 saves in net for the Black Bears.
Lexie Hoffmeyer (Grand Blanc, Mich.) scored the first goal off of a crisp Vanessa Vani (St. Catharines, Ontario) pass with 7:34 remaining in the first period. The Black Bears then took a 2-0 lead with two seconds left in the first period when Jenna Ouellette (Winnipeg, Manitoba) found the back of the net from a Hoffmeyer pass. North Dakota drew it close in the third period after a Sara Dagenais (Montreal, Quebec) goal put the game at 3-2. With only 2:34 remaining, Elyce Thomas (Port Coquitlam, B.C.) was called for body checking, but the Maine defense was able to hold of the Fighting Sioux for the win.
Turgeon's 46 saves were due to a relentless North Dakota attack. None were more important than the barrage of shots she stopped during the Fighting Sioux's power play in the game's final seconds.
The Black Bears had only 18 shots on goal, but they made each one count. Amy Stech (Duluth, Minn.) scored in the second period as freshman Melissa Gagnon (St. Gilles, Quebec) received her first career assist and Vani tallied her second of the game.
Vani's two assists move her into sole possession of fourth place on Maine's all-time assist list with 45, now standing only 10 away from claiming the record.
The Black Bears return to the ice tomorrow afternoon at 2 p.m. in the Alfond Arena against North Dakota. Maine is now 5-0 in their history against the Fighting Sioux.