Saturday, October 11, 2008
MAINE DEFEATED BY MINNESOTA STATE, 4-0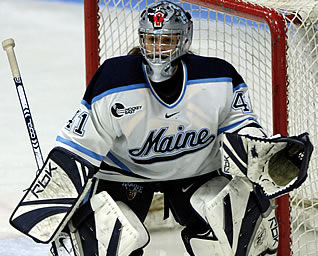 Genevieve Turgeon made 46 saves for Maine
Mankato, Minn. - The University of Maine women's ice hockey team dropped a 4-0 decision to Minnesota State-Mankato Saturday evening. The Black Bears slide to 1-3-0 on the season while the Mavericks improve to 3-1-0. Maine was led by Genevieve Turgeon (Lac Beauport, Quebec) with 46 saves.
The Black Bears were unable to find their stride offensively as they were out shot 17-50, attempting only four shots in the first period. Defensively, Maine was its own worst enemy as they allowed two power play goals set up by a Vanessa Vani (St. Catharines, Ontario) tripping call and a Jenna Ouellette (Winnipeg, Manitoba) elbowing call to make it 0-2 midway through the second period.
Turgeon came under fire all evening as she saved 46 shots for the third time in four games. The all-time leader in saves at Maine, Turgeon now has 169 saves this season, the most among Hockey East goaltenders.
The Black Bears will return to the ice to take on Sacred Heart University in a two game series at Alfond arena beginning on Friday night at 7 pm.