MAINE FALLS TO MINNESOTA STATE, 5-2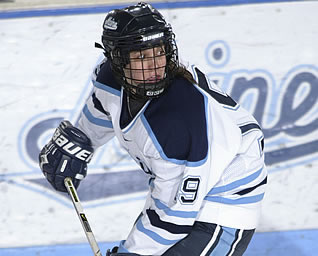 Vanessa Vani had a goal for the Black Bears
Mankato, Minn. - The University of Maine women's ice hockey team lost to Minnesota State-Mankato 5-2, in a closely contested game that was tied mid-way through the third period. The Black Bears fall to 1-2-0 on the season while the Mavericks improve to 2-1-0. Jenna Ouellette (Winnipeg, Manitoba) and Vanessa Vani (St. Catharine, Ontario) each scored for Maine.
The Black Bears jumped out to an early lead with a Vani goal 7:21 into the first period. Mankato tied it up 1-1 in the second period with a power play goal from Lisa Edman (Ornskoldsvik, Sweden). The Mavericks then broke the tie early in the third period after a Lexie Hoffmeyer (Grand Blanc, Mich.) tripping penalty set up a Christina Lee (Maple Plain, Minn.) power play goal. Maine tied the game back up half-way through the third period when Ouellette notched her third goal of the season off of a Hoffmeyer pass. The lead was short lived however, as Emmi Leinonen (Valkeakoski, Finland) scored just over a minute later to give the Mankato a 3-2 lead and the eventual win.
Vani's goal in the first period was set up by assists from freshmen Melissa Gagnon (St. Gilles, Quebec) and Myriam Croussette (Baie-Comeau, Quebec), marking Croussette's first collegiate point. Hoffmeyer, Ouellette and Vani are now tied for the team lead with four points.
Genevieve Turgeon (Lac Beauport, Quebec) made 31 saves in the contest, she now has made 30 or more saves in each game this season.
The Black Bears look to take the second game of the weekend series as they face-off against the Mavericks once more at 3 pm tomorrow afternoon.