CATAMOUNTS FALL TO MCGILL, 1-0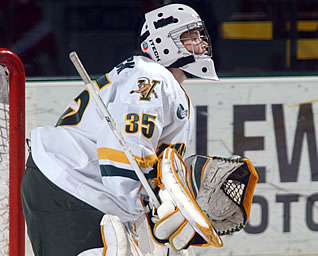 Kristen Olychuck made 32 saves for the Catamounts
BURLINGTON, Vt. -- Despite a strong effort by Vermont goalie Kristen Olychuck (Kelowna, B.C.), McGill used a first period goal by Vanessa Davidson to hold off the Catamounts for a 1-0 victory in a college women's hockey preseason game Sunday evening at Gutterson Fieldhouse. The contest, UVM's first action of the season, was played in front of 735 fans, one of the largest crowds in program history.
"This was a very good way to start the season," said Vermont head coach Tim Bothwell. "McGill is an excellent team and very skilled. We showed that we can be in any game this year if we put our mind to it. I liked the way we played five-on-five tonight but too many penalties hurt us."
Olychuck was outstanding making 32 saves in the contest as the Martlets, last season's Canadian National Champions, outshot the Catamounts, 33-16, for the game and 25-6 in the first two periods. McGill's Charline Labonte, who also plays for the Canadian National Team, stopped all 16 shots to record the shutout.
McGill took advantage of four UVM first period penalties and struck first on Davidson's power play goal, on an assist from Catherine Ward on a five-on-three advantage, at 15:01.
Vermont battled back in the second period and despite a 13-2 deficit in shots, had two very good scoring opportunities, one by Sarah Smiddy (Grand Rapids, Mich.) and another from Erin Barley-Maloney (Raleigh, N.C.), just miss the mark.
The Catamounts pressed harder for the equalizer in the third and out-shot the Martlets, 10-8. Molly Morrison (South Burlington, Vt.) has two good shots on the power play advantage turned aside by Labonte to open the period. Late in the game, Kailey Nash (Middletown, R.I.) and Chelsea Rapin (Walled Lake, Mich.) both had great bids stopped by Labonte.
McGill finished 1-for-8 on the power play and killed all four of its penalties, three in the third period to hold off UVM's comeback attempt.
Vermont opens its regular season next weekend with a two-game series at Union taking on the Dutchwomen Friday at 7:00pm and Saturday at 3:00pm. The Catamounts next play at home on Saturday, October 18 hosting Connecticut at 2:00pm at Gutterson Fieldhouse in UVM's Hockey East opener. Admission is free to all UVM students (with a valid ID) and Rally's Round Up members for all regular season home games. For ticket information please call 1-866-4-CAT-TIX or log on to www.UVMathletics.com.