Saturday, September 27, 2008
Northeastern falls to Dawson in exhibition, 4-2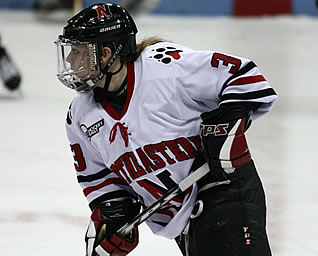 Assistant captain Annie Hogan scored for the Huskies
BOSTON, Mass. - The Huskies lost their pre-season exhibition matchup against the Dawson College Blues by a score of 2-1 at Matthews Arena Saturday.
The Blues owned the first period, and got on the board courtesy of Marie Philip Poulin's strike at 9:04, and converted a power-play at 15:08 on an Audrey Gariepy goal to go up 2-0.
Northeastern got on the board in the second period when Missy Elumba sent a pass ahead that got past a Dawson defenseman and found a streaking Karoline Perdios. The freshman walk-on attacked the net and converted the breakaway to bring Northeastern within one.
The Huskies could not keep the Blues off the board in the second period either, and surrendered a pair of goals to fall behind 4-1. Annie Hogan scored for Northeastern after fighting for a loose puck in a crowded goalmouth, but the tally was not enough for the Huskies to catch up, and Northeastern ultimately suffered a 4-2 loss.
Returning Hockey East All-Rookie goalie Leah Sulyma split time with accomplished incoming freshman Florence Schelling against Dawson. Sulyma allowed four goals and made 11 saves in 29:33 of work, while Schelling made 10 saves and kept the blues off the board for the game's final 30:27.
Despite the score, after regulation time the two teams played a shootout in preparation for Women's Hockey East's adoption of the shootout in the event of tie games. Northeastern appeared to have won the contest when Kristi Kehoe's shot beat Dawson goaltender Joanie Plamondon, but the puck struck the crossbar, and bounced out, being ruled no goal. Schelling was outstanding in the shootout, denying three straight efforts from Dawson attackers, and forcing one shot wide. Northeastern's Ali Bielawski capitalized on the opportunity, and rocketed a shot into the upper right corner for the win.
Northeastern's first regular season game is Oct. 3 at Rensselaer. The Huskies open their home schedule Sat., Oct. 18 against Providence at Matthews Arena at 1 p.m.