Tuesday, December 30, 2008
VERMONT FALLS TO DARTMOUTH, 4-1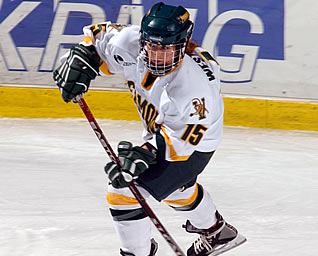 Hannah Westbrook scored her first goal of the season
BURLINGTON, Vt. -- Sarah Toupal, Reagan Fischer and Julia Bronson each had a goal and an assist as third-ranked Dartmouth held off Vermont, 4-1, in non-conference women's college hockey Tuesday evening at Gutterson Fieldhouse. In their first game in 24 days, the Catamounts played the third-ranked Big Green tough for two periods before a pair of third period goals eliminated any bid for an upset.
"We had a great team effort for the first 40 minutes battling a very good team nose-to-nose," said Vermont coach Tim Bothwell. "We sagged a bit after their third goal yet overall, I liked our energy and enthusiasm and we showed good composure handling the puck. It was a disappointing ending but we can take a lot of positives from the way we played tonight."
Toupal opened the scoring tipping a Bronson shot past UVM goalie Kristen Olychuck (Kelowna, B.C.) just 41 seconds into the contest. The Big Green increased it to 2-0 as Moira Scanlon took advantage of a Vermont turnover for an unassisted goal at 15:52. UVM had several good scoring chances in the opening period, the best by Sarah Smiddy (Grand Rapids, Mich.) and Brittany Nelson (Shelburne, Vt.), who each had a whack at a loose puck from close range in front of Dartmouth goaltender Carli Clemis prior to the first intermission.
Vermont increased its pressure to start the second but could not convert on an early two-skater power play advantage. Olychuck, along with the UVM penalty killing unit, then survived a six-shot Dartmouth attack halfway through the stanza. The Cats broke through to cut the deficit in half with just under three minutes to go in the period on the first career goal by sophomore blueliner Hannah Westbrook (Laramie, Wyoming). After Carlis stopped shots from the right wing by Molly Morrison (South Burlington, Vt.) and Chelsea Rapin (Walled Lake, Mich.), Westbrook snuck in from the left side to rap home the second rebound at 17:11.
The Big Green snuffed out any Vermont momentum in the final period outshooting UVM, 16-0. Bronson made it 3-1 at 3:51 and Fischer closed out the scoring just over two minutes later.
Dartmouth used its strong final period to finish with a 33-19 advantage in shots. Olychuck finished with 29 saves while Carlis, who was tested early, had 18 stops. Both teams went 0-for-4 on the power play.
The Catamounts hit the road for their next six games starting with a two-game Hockey East weekend series at Connecticut this Saturday and Sunday. Both games with the Huskies face off at 1 p.m. Vermont's next home game is against Boston College on January 25. Admission is free for all UVM students (with a valid ID) and Rally's Round Up members for all regular season home games. For ticket information please call 1-866-4-CAT-TIX or log on to www.UVMathletics.com.