Saturday, October 25, 2008
VERMONT DEFEATED BY CORNELL, 5-1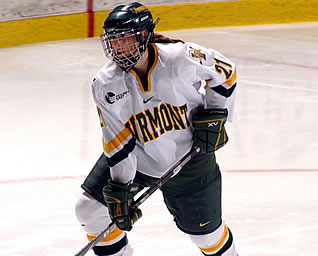 Melanie Greene had an assist for the Catamounts
BURLINGTON, Vt. -- Catherine White scored twice and added an assist as Cornell topped Vermont, 5-1, in a women's college hockey game Saturday afternoon at Gutterson Fieldhouse. The victory gives the ECAC Big Red (2-0-0) a two-game sweep over the Catamounts (2-4-0) in the non-conference series.
"We were better this afternoon than we were last night but we need to push and challenge ourselves to play better for all 60 minutes," said Vermont coach Tim Bothwell. "Cornell is a very good team and they showed it this weekend. We are still growing as a team and growing as individuals. I still like the potential this team has."
Rebecca Johnston had a goal and three assists for the second straight game for Cornell. Johnston's goal and both of White's came in a three-goal second period that opened the game up for the Big Red. Liz Zorn scored in the first period and Stephanie Holmes closed out the scoring in the third for Cornell.
Erin Barley- Maloney (Raleigh, N.C.) scored Vermont's goal at 16:07 in the final period on assists from Melanie Greene (Queensbury, N.Y.) and Teddy Fortin (Brunswick, Maine). It was the team-high third goal of the young season for Barley-Maloney, a freshman forward.
The Big Red outshot Vermont, 27-18, with Cats goalie Kristen Olychuck (Kelowna, B.C.) making 22 saves. Kayla Strong stopped 17 of 18 shots for Cornell.
The Catamounts, who allowed six power play goals in Friday's loss, did a better job killing penalties on Saturday limiting Cornell to one goal in eight opportunities. Barley- Maloney's goal was on power play for UVM in a 1-for-6 effort with the extra skater. It was an improvement over Friday night when the Cats could not cash in on 12 power play chances.
A photo gallery of today's game as well as the postgame 'Skate With The Cats' will be available later on www.UVMathletics.com.
Vermont returns to Hockey East play next weekend with road games at Boston College Friday at 2 p.m. and at New Hampshire Saturday at 5 p.m. The Catamounts next home action is in two weeks when they host Wayne State on Friday and Saturday, November 7-8 at Gutterson Fieldhouse. Admission is free for all UVM students (with a valid ID) and Rally's Round Up members for all regular season home games. For ticket information please call 1- 866-4-CAT-TIX or log on to www.UVMathletics.com.