VERMONT FALLS TO CORNELL, 7-1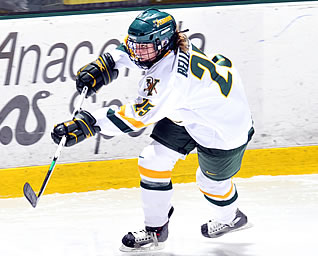 Shannon Bellefeuille scored the Catamount goal
BURLINGTON, Vt. - Rebecca Johnston scored one goal and set up three others as Cornell rolled past Vermont, 7-1, in a non-league women's college hockey game Friday night at Gutterson Fieldhouse. The Big Red (1-0-0) scored six power play goals in the game that had 29 penalties whistled on the two teams.
"Tonight we took a giant step backwards," said Vermont head coach Tim Bothwell. "We lacked composure and we lacked effort. The good thing about sports is that you get another chance and we have another game tomorrow afternoon. Hopefully tomorrow I expect to see the team that we really are."
Johnston, last year's ECAC Rookie of the Year and a member of the Canadian National Team, led a balanced attack for Cornell in its season opener. Liz Zorn scored twice while Amanda Young and Jess Martino each chipped in with three assists. The Big Red was 6-for-15 on the power play while the Catamounts, who had six power play goals in their first four games, could not convert on any of their 12 extra-skater opportunities.
Vermont could not cash in on five first period power play chances including a five-minute advantage just 12 seconds into the game. Stephanie Holmes and Johnston each scored to give Cornell a 2-0 lead at the first intermission. Zorn, Catherine White and Laura Danforth found the net to make it 5-0 after two periods.
A goal by Sam Wauer at 2:15 of the third made it 6-0 before Vermont got on the board on a goal by freshman Shannon Bellefeuille (Kanata, Ontario) at 6:55. Bellefeuille rapped home a rebound of shots by Molly Morrison (South Burlington, Vt.) and Chelsea Rapin (Walled Lake, Mich.) for her first career goal. The rookie blueliner has now recorded a point in each of her last four games.
Zorn closed out the scoring with her second of the contest at 8:15.
Cornell outshot UVM, 40-21, for the contest. Big Red goalie Jenny Niesluchowski made 20 saves in recording the win. Kristen Olychuck (Kelowna, B.C,) stopped 15 shots in two periods of work for the Catamounts (2-3-0) while freshman Caitlin Whitlock (Westfield, N.J.) made 18 saves in the final stanza.
The Catamounts and Big Red face again Saturday at 4 p.m. Following the game, fans are invited to 'Skate with the Cats' on the Gutterson Fieldhouse ice. Admission is free to all UVM students (with a valid ID) and Rally's Round Up members for all regular season home games. For ticket information please call 1-866-4-CAT-TIX or log on to www.UVMathletics.com.