Providence College Falls at Cornell, 4-1
Ashley Cottrell nets the lone goal for Providence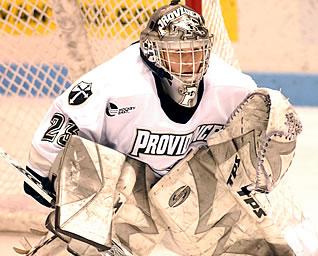 Danielle Ciarletta stopped 23 shots for the Friars
PROVIDENCE, R.I. (January 5, 2008) - After battling back from a 3-0 deficit the day before, the Providence College women's hockey team suffered a 4-1 defeat against Cornell University. The loss drops the Friars overall record to 10-8-2 (5-2-1 Hockey East).
In what was the last of a six-game road trip that saw the Friars go 4-2, Providence gave up two first-period goals and never fully recovered. The Big Red saw goals from Brianne Gilbert and Ashley Duffy at 12:14 and 16:36, respectively.
PC got on the board at 14:02 when freshman Ashley Cottrell (Sterling Heights, Mich.) stole the puck off the stick of a Cornell defender at center ice and skated uncontested towards the Big Red net. Cottrell made a quick move before lifting the puck just beneath the crossbar for her third goal of the season.
The one-goal margin was as close as PC would come as Cornell added a power-play goal and an empty-net tally to end the game. The Friars outshot Cornell, 32-27, but still fell short.
Senior Danielle Ciarletta (Blaine, Minn.) stopped 23 shots but saw her record fall to 2-3-1 on the season.
Providence will look to get back to its winning ways when they come home to Schneider Arena for the first time in six games. The Friars will host #6 New Hampshire in a pivotal Hockey East contest beginning at 1:00 p.m. The game will be televised on Cox Sports Television.