PROVIDENCE NOTCHES 4-3 WIN AT CORNELL
Friars erase three-goal deficit to earn victory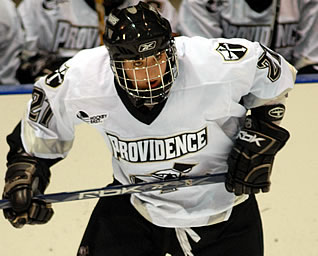 Allyse Ruff scored a goal for the Friars
ITHACA, NY - In a game that saw seven goals and four goalies, the Providence College women's hockey team came away with a 4-3 victory to improve their overall record to 10-7-2 (5-2-1 Hockey East).
After falling behind, 3-0 at 15:33 of the first period, the Friars made a switch in the PC cage. Coach Deraney brought Danielle Ciarletta (Chanhassen, Minn.) off the bench to replace freshman Genevieve Lacasse (Scarborough, Ontario) in hope of lighting a fire on the Providence bench. In her first action since earning a 2-2 tie with Niagara on Nov. 22, Ciarletta came off the bench to suffocate the streaking Big Red offense. The senior netminder denied all 22 shots she faced to lead PC back from a 3-0 deficit.
Providence would go down, 3-0 at 15:33 after goals from Catherine White, Laura Danforth and Ashley Duffy. Just 17 seconds later, senior Katy Beach (Cleveland, Ohio) responded to put the Friars on the board after passes from freshman Abby Gauthier (Lynn, Mass.) and junior Jackie Duncan (Kitchener, Ontario).
The first period ended with Cornell holding on to a 3-1 lead with both teams putting 11 shots on net.
The Friars were outplayed in the first period but the story changed as the two teams came out of the locker room for the next 20 minutes as PC would tally three unanswered goals. Just 2:18 into the period, Providence would cut the lead to one as Alyse Ruff (Tualatin, Ore.) finished off a feed from freshmen Laura Veharanta (La Verne, Calif.) and Ashley Cottrell (Sterling Heights, Mich.). Ruff earned her seventh goal of the season while Veharanta and Cottrell registered their seventh and 11th assists, respectively.
Providence would even the score at 14:58 when Beach sent a face off right to Gauthier on the right wing. Gauthier put home her second goal of the season while Beach earned her fifth helper of the year.
Only 31 seconds later, the Friars came into the Cornell zone with a three-on-two rush. After passes from Veharanta and Ruff, Cottrell slid home the game winner, her third goal of the year. The assist was the second of the game for Veharanta, her eighth of the season, while Ruff registered her fourth assist of the year on the play.
While Cornell was able to generate several scoring chances in the final 20 minutes, Ciarletta responded with as many clutch saves to preserve the impressive come-from-behind victory. The win improves her overall record to 2-2-2.
The two teams will face off again tomorrow in the second and final game of the series. The puck drops at 2:00 p.m. at Lynah Rink