Saturday, October 18, 2008
CONNECTICUT HOLDS OFF VERMONT, 2-1
Dominique Thibault notches game-winner for Huskies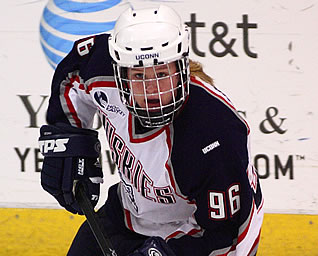 Dominique Thibault scored her tenth goal of the season
BURLINGTON, Vt. -- A late UVM rally fell short as 10th-ranked Connecticut held off Vermont, 2-1 in women's Hockey East action Saturday afternoon at Gutterson Fieldhouse. It was the conference opener for the Catamounts and their first regular season home game.
Amy Hollstein set up both goals for UConn (4-1-2, 2-0-0) as the defeat stopped Vermont's winning streak dating back to the end of last season at four games. The play was tilted in the Huskies' favor for the first 30 minutes before UVM (2-1-0, 0-1-0) rallied with a third period charge.
"Our effort the last half of the game was good playing a top-10 team nose-to-nose," said Vermont head coach Tim Bothwell. "We began to move our feet well and won a lot of battles for loose pucks to stay with them. We didn't really give them a lot in the offensive zone to keep it close. We need to play like we did in the second half of the game today for all 60 minutes tomorrow against Providence, another very good team."
The Catamounts team defensive effort limited the high-flying Huskies to just 23 shots on goal and killed all five Connecticut power play opportunities. UConn began the game with a 12-4 edge in shots and had a 2-0 lead before Vermont closed the gap outshooting its opponent 15-11 down the stretch.
A goal by UVM's Teddy Fortin (Brunswick, Maine), with assists to Shannon Bellefeiulle (Kanata, Ontario) and Celeste Doucet (Memramcook, New Brunswick), 2:24 into the third period narrowed the gap before UConn held off the Catamounts down the stretch.
Judy Sydor opened the scoring for the Huskies at 7:08 in the first period as her shot from the point through a screen found a way past Cats goalie Kristen Olychuck (Kelowna, B.C.). UConn made it 2-0 on Dominique Thibault's 10th goal of the season at 4:54 of the second with Hollstein and Sami Evelyn picking up assists.
Olychuck, who kept Vermont in the game with a pair of point blank saves after Fortin's goal, finished with 21 saves. Brittany Wilson made 18 stops including nine in the final period for the Huskies.
Vermont continues its four-game homestand hosting Providence Sunday at 3 p.m. at Gutterson Fieldhouse. Sunday's contest is UPS Store Poster Day with the Catamounts available for postgame autographs. Admission is free to all UVM students (with a valid ID) and Rally's Round Up members for all regular season home games. For ticket information please call 1-866-4-CAT-TIX or log on to www.UVMathletics.com.