CONNECTICUT SWEEPS WEEKEND SERIES WITH 3-1 WIN OVER VERMONT
Cristin Allen scores two goals for Huskies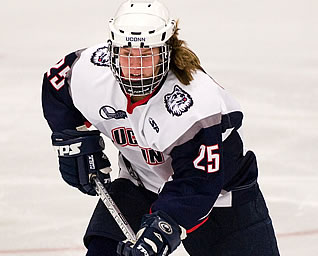 Cristin Allen scored two goals for the Huskies
STORRS, Conn. (Jan. 4, 2009) - Cristin Allen (Pickering, Ont./Durham Lightning AA) scored a pair of goals in the University of Connecticut women's ice hockey team's 3-1 victory on Sunday afternoon over Vermont. With the win at Mark Edward Freitas Ice Forum, the Huskies swept the Catamounts in regular season action and improve their record two 13-6-2 overall and 6-4-0 in Hockey East play.
The loss drops the Catamounts overall record to 4-14-1 and 2-7-0 in the conference.
The Huskies escaped a Vermont two-man advantage situation in the opening period of play. Rebecca Hewett (Oak Bluff, Man./APHA Rangers) blocked Kailey Nash's shot from just inside the blue line, the lone Catamount shot during the six-on-four situation.
Michelle Binning (Oshawa, Ont./Toronto Jr. Aeros Inter. AA) skated down the ice as the penalty expired and took the puck passed by Kristen Russell (Dauphin, Man./U-18 Team Manitoba) to score on Ashley Walenty. The Huskies led 1-0 just past the midway point of the first period.
Although Vermont was 0-3 on the power play and UConn was unable to capitalize on its single power-play opportunity of the first period, Allen beat the Catamount netminder top-shelf while the Huskies were shorthanded. It was the junior defensemen's first shorthanded goal of her career, giving UConn a 2-0 lead. Russell recorded her second helper of the game on Allen's goal.
In the second period, Nash scored one on the short side five minutes into the second period to cut the deficit to a single goal (2-1).
Later in the period, Allen once again took a puck left behind the Husky net by goalie Brittany Wilson (Nepean, Ont./Ottawa Intermediate AA) the length of the ice as she had done in Saturday's game against Vermont. Allen scored at 7:37 in the second period.
The Huskies entered the final period of regulation with a 3-1 lead and maintained the advantage with Wilson making five saves. UConn fired eight shots on goal in the last twenty minutes, but the remained the same (3-1).
UConn returns to action on Saturday with a 1 p.m. Hockey East game against Boston University at Freitas Ice Forum.
Game Notes
- With a pair of goals today, Cristin Allen surpassed last season's total of four. This season, Allen has a total of 18 points (5G, 13A).
- This is the first time since UConn's season-opening game that the squad has scored in every possible situation. The Huskies registered a power-play, a shorthanded and an even strength goal against Vermont. Against Sacred Heart, UConn scored a pair of power play goals and three shorthanded goals to go along with eight even-strength marks.
- UConn has scored at least one power-play goal in each of the last seven games, scoring multiple goals with the man advantage in four games