Sunday, February 22, 2009
NEW HAMPSHIRE NOTCHES 4-2 WIN OVER CONNECTICUT
Jenn Wakefield and Kelly Cahill each register three-point games for UNH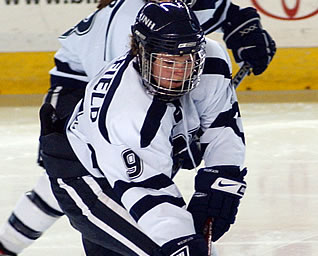 Jenn Wakefield had two goals and an assist for UNH
DURHAM, N.H. - Jenn Wakefield (Pickering, Ontario) and Kelly Cahill (Farmington Hills, Mich.) each matched career highs potting a pair of goals apiece to lift the fifth-ranked University of New Hampshire women's ice hockey team to a 4-2 win over Hockey East foe #10 Connecticut Sunday afternoon at Whittemore Center. UNH improves to 22-5-5, with a 16-2-3 mark in Hockey East play. UConn is now 19-11-4, 12-8-1 HE.
Leading it 1-0, Cahill and Wakefield scored just 14 seconds apart to give the Wildcats a 3-0 lead. Cahill tallied the first of the goals at 2:43 of the second period with assists from Micaela Long (South Boston, Mass.) and Kacey Bellamy (Westfield, Mass.). Wakefield's goal, the eventual game-winner, came at 2:57 of the third period and was aided by Cahill and Angela Taylor (Paisley, Scotland). Wakefield's second goal of the period made it 4-0 as she scored on the power play with assists from Sam Faber (Mt. Sinai, N.Y.) and Kelly Paton (Woodstock, Ontario) at 6:59. UConn would rally with a pair of goals in late in the third period, but it proved to be too little, too late. The first tally came at even-strength as Michelle Binning scored with assists from Nicole Tritter and Rebecca Hewett at 12:38. The second came at 13:16 as Amy Hollstein scored a power play goal with assists from Jody Sydor and Cristin Allen. UConn would have a few scoring chances in the final minutes with an extra-attacker, but UNH netminder Kayley Herman (Weyburn, Saskatchewan) made the two goal advantage stand up with 10 third-period stops.
UNH broke the scoreless deadlock with an even-strength goal late in the second period. Cahill scored her first of the night as she redirected a Wakefield shot into the net past UConn netminder Brittany Wilson. The Wildcats held a 7-3 shot advantage in the second and went into the break up 1-0.
In a scoreless first period, play was even with both teams getting matching six shots and each team skated a man up once during the period.
Overall, UNH held a slim 23-21 shot advantage, while each team scored once on the power play with UConn going 1-4 and the Wildcats 1-5.
Herman stopped 19 shots overall and improves to 13-5-5, while Wilson stopped 15 shots in her 46:59 before being relieved by Alexandra Garcia who stopped all four shots she face in 11:23 of the third period. Wilson fell to 15-7-3 on the season.
The Wildcats have earned a first-round bye and the top seed in the upcoming Hockey East Championships and will be idle next weekend. UNH will return to action on Saturday, March 7 in the Hockey East semifinals. The Wildcats will play in one of two semifinals beginning at noon or 3 p.m. Time and opponent are still to be determined, but UNH will host both semifinals and the 7th-annual Hockey East Championship game on Sunday, March 8 at 12:30 p.m (live on NESN). For more information on the 2009 Women's Hockey East Championships log on to www.unhwildcats.com or www.hockeyeastonline.com