Saturday, September 27, 2008
CONNECTICUT STORMS PAST SACRED HEART, 13-0
Dominique Thibault and Nicole Tritter each net Hat Tricks for HUskies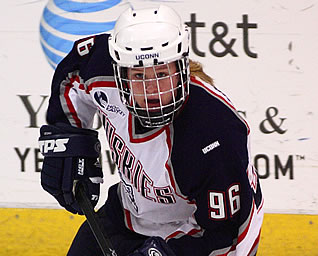 Dominique Thibault had three goals and two assists for UConn
STORRS, Conn. (Sept. 27, 2008) - The University of Connecticut women's ice hockey team cruised to a 13-0 victory in its first game of the season against Sacred Heart. UConn scored three shorthanded goals and two power-play goals on Saturday evening at Mark Edward Freitas Ice Forum.
UConn capitalized on a pair of power-play opportunities in the first period and turned a two-man advantage for Sacred Heart into a scoring chance. Michelle Binning (Oshawa, Ont./Tornot Jr. Aeros Int. AA) and Rebecca Hewett (Oak Bluff, Man./APHA Rangers) scored on the power-play. Nicole Tritter (Toronto, Ont./Toronto Jr. Aeros Int. AA) scored the shorthanded goal with six minutes remaining in the opening period, putting the Huskies ahead 4-0 at the end of 20 minutes.
In the second period, the Pioneer's netminder, Amanda Nagel, made several saves, denying the Huskies the ability to capitalize on several scoring chances. UConn peppered Nagel with 26 shots over 20 minutes. She finished the evening with 44 saves as the Huskies out-shot the Pioneers 61-16.
Dominque Thibault (L'Original, Ont./Montreal Axion NWHL) recorded a hat trick in the second period, starting with her first goal at 6:42. Jaclyn Camardo (Arlington Heights, Ill./Chicago Young Americans) scored the first goal of her career before Thibault recorded back-to-back shorthanded goals to put UConn ahead 8-0.
Brittany Wilson (Nepean, Ont./Ottawa Int. AA) took over in net at the start of the third period for UConn after Alexandra Garcia (Pointe-Claire, Que./Dawson College) stepped in between the pipes for the second period. Jennie Bellonio (Guilford, Conn./Pomfret School) started for the Huskies and is credited with the win, saving seven shots in the first period.
Tritter scored at 13:28 in the third period to finish the night with the second UConn hat trick. Brittany Murphy (Tewksbury, Mass./Lawrence Academy) and Monique Weber (Rogers, Minn./Elk River High School) also scored for the Huskies in the final period of play.
Thibault recorded a team-high five points with three goals and two assists. Tritter finished the game with four points (3G, 1A). In total, 14 team members registered at least one point in the game with goal scoring duties shared among eight player. Twelve players added assists.
The Huskies hit the road and continue the season with a two-game series at Minnesota State. Face-off is set for 8 p.m. on Oct. 3 and 4 p.m. on Oct. 4 against the Mavericks.