NORTHEASTERN BLANKS CONNECTICUT, 3-0
Leah Sulyma posts 34 saves in shutout performance for NU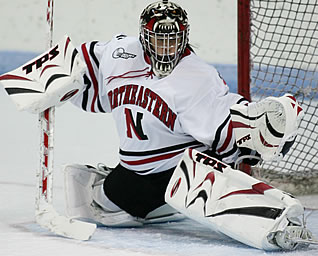 Leah Sulyma made 34 saves for Northeastern
STORRS, Conn. (Oct. 19, 2008) - Despite outshooting Northeastern 34-16, the No. 10/10 University of Connecticut women's ice hockey team lost its first Hockey East game of the season 3-0 on Sunday at Mark Edward Freitas Ice Forum.
Northeastern (4-0-2, 2-0-0) jumped out to an early 1-0 lead with Kristi Kehoe scoring a mere 47 seconds into the first period. Ali Bielawski and Julia Marty had the assists on the power-play goal. The Huskies narrowly out shot Northeastern (10-8), but were unable to capitalize on several key scoring opportunities.
UConn continued to edge out Northeastern in scoring chances in the second period (8-6). Battles in the face-off circle for possession proved to be instrumental as Northeastern increased their lead with an even-strength goal at 13:21. Lori Antflick got her first goal of the season from Steph Favronsky and Katy Applin.
In the final minute of the second period, Applin converted Northeastern's fourth power play of the afternoon. Applin put the Northeastern Huskies ahead 3-0 going into the final intermission. Annie Hogan and Marty had the assists.
UConn (4-2-2, 2-1-0) refused to give up peppering Leah Sulyma with 16 shots in the final period of regulation. The Huskies denied Northeastern the ability to get more than two shots away in the final twenty minutes.
Jody Sydor (St. Albert, Alta./Sturgeon Composite) and Michelle Binning (Oshawa, Ont./Toronto Jr. Aeros. Inter. AA) each registered three shots at the Northeastern netminder. Cristin Allen (Pickering, Ont./Durham Lightning AA) and Monique Weber (Rogers, Minn./Elk River High) led the Husky offense with five shots each.
The visitors maintained control in their own zone in the wanning minutes of the game despite a power-play opportunity for the Huskies and an UConn empty net.
Sulyma finished the game with 34 saves while Brittany Wilson (Nepean, Ont./Ottawa Intermediate AA) stopped 13 of 16 shots.
The Huskies return to action at Princeton for a two game series, beginning on Friday at 7 p.m. UConn faces off against the Tigers for the second time on Saturday, Oct. 25 at 7 p.m.
Game Notes
Last season, the Huskies started the Hockey East season with a 2-1-0 record and ended the season 13-5-3. UConn finished in second place in the standings and finished last season with a program-best 22 victories.