Saturday, January 24, 2009
WILSON, THIBAULT LIFT UCONN PAST NORTHEASTERN, 1-0
Brittany Wilson makes 22 saves for Huskies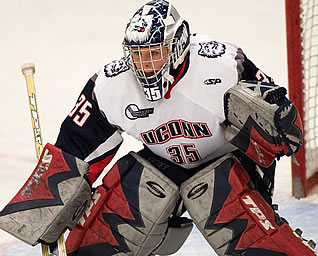 Brittany Wilson made 22 saves for the Huskies
BOSTON, Mass. - Northeastern took a 1-0 loss to eighth-ranked Connecticut Saturday at Matthews Arena. NU drops to 10-12-2 with the loss.
Northeastern and Connecticut played each other evenly in the first period, and matched each other shot for shot. Northeastern tested Wilson in the middle portion of the period with good shots from just inside the blue line by Ginny Berg, Colleen Sanborn, and Annie Hogan. Northeastern saw two power-play opportunities later in the frame, but could not get their power-play offense established in the Connecticut zone.
Connecticut almost tallied the game's first goal when a blocked shot bounced between a number of players from both teams battling down low, but no Connecticut player was able to get a stick on the puck, and the two teams went into the locker room tied at zero.
The second period was as evenly played as the first - both teams generated some good offense, but neither team could beat the other's keeper. Connecticut came closest five minute into the period, when a loose puck trickled to the right side of the crease, but Florence Schelling made a great reflex save to deny the Connecticut shot. Northeastern got a good opportunity minutes later when Ali Bielawski carried the puck into the corner, then dished it off to Lindsay Berman, who was waiting in the slot. Berman got a good shot on net, but Connecticut's Brittany Wilson was in position to make the save. Midway through the period, Northeastern's Julia Marty fell to the ice holding her wrist, and exited the game, not to return. Each team got a chance on the power-play in the second, but neither squad could convert.
The two teams seemed headed for overtime, when Connecticut's Dominique Thibault collected the rebound from a Michelle Binning shot and slotted it past Schelling to give Connecticut the lead with 2:31 remaining. Northeastern pulled Sulyma for the extra attacked down the stretch, but a late penalty on Lori Antflick forced Northeastern to search for the equalizer with one less skater, and NU came up short.
Northeastern continues Hockey East play with a road series at Maine Jan. 30-31