CONNECTICUT NOTCHES 5-2 WIN AT MINNESOTA STATE
Michelle Binning and Amy Hollstein each score twice for Huskies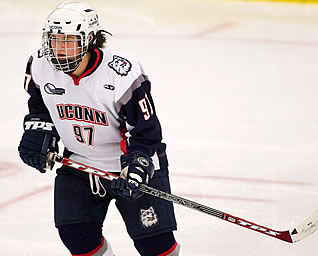 Michelle Binning scored two goals for UConn
MANKATO, Minn. - Junior forwards Michelle Binning and Amy Hollstein each scored two goals to lead the University of Connecticut to a 5-2 victory against Minnesota State on Friday evening.
The Mavericks scored first at 4:47 of the first period on a goal from junior forward Kala Buganski. She was assisted by South Saint Paulers senior forward Maggie Fisher and junior forward Ashley Young.
The Huskies knotted the game 1-1 at 10:03 on a four-on-four situation with an unassisted goal from Hollstein, but MSU quickly responded with a four-on-four goal of their own at 10:18. Junior defenseman Kathleen Rosso scored her first goal of the season from the slot as she was falling to the ice. She was assisted by sophomore forward Nina Tikkinen and freshman Emilia Andersson. The goal gave MSU the 2-1 lead after one.
UConn used two goals in the second to take the lead on the Mavericks, including the eventual game-winning goal on the power play. Binning scored both goals in the second period for the Huskies.
A power play goal by Dominique Thibault and an empty netter by Hollstein in the third period sealed the game for UConn.
UConn's Brittany Wilson made 29 saves to earn the win. MSU's Paige Thunder made 17 saves and gave-up four goals in her first start of the season for the Mavericks.
The Mavericks outshot the Huskies 31-22. UConn took advantage of nine power play opportunities, scoring twice on 11 shots. MSU was 0-5 with seven shots.
The Mavericks continue the nonconference series with the University of Connecticut tomorrow at 3:07 p.m. at All Seasons Arena.