Friday, February 13, 2009
THREE GOAL THIRD LIFTS UCONN PAST MAINE, 3-1
Brittany Murphy, Nicole Tritter and Amy Hollstein scored third period goals for Huskies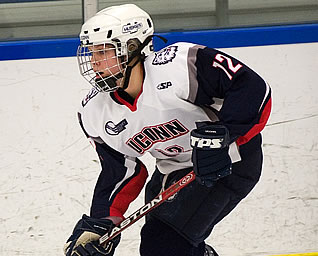 Nicole Tritter scored the game-winner for the Huskies
Orono, Maine - The University of Maine women's ice hockey team let its 1-0 third period lead slip away allowing three goals in the final 19 minutes to lose 3-1 to #9 Connecticut on Friday afternoon. The Black Bears slide out of playoff contention as their record drops to 5-22-3 on the season and 3-14-1 in Hockey East. The Huskies improve to 19-9-3 overall and 11-6-1 in conference play. Goaltender Genevieve Turgeon (Lac Beauport, Quebec) made 38 saves, including several back breaking stops, to keep Maine alive throughout the contest.
The Black Bears wasted no time jumping on the board, scoring 5:20 into the first period. After penalties on each team created a four-on-four, Ashley Norum (Fairbanks, Alaska) fed Vanessa Vani (St. Catharines, Ontario) as she broke down the unpopulated ice. As Vani was entering the Connecticut zone, she dished it to freshman Myriam Croussette (Baie-Comeau, Quebec) streaking down the left side of the ice. Croussette blasted the shot past goaltender Brittany Wilson for her fifth score of the season.
After a fast paced second period in which Turgeon stopped 20 shots, 10 of which came on the power play, the Black Bears carried their one goal lead into the final period. The Huskies tied the game up quickly as Brittany Murphy scored just 1:52 into the period. Murphy's goal was her fourth of the season and came on a rebound after Turgeon stopped a Rebecca Hewett shot.
Connecticut scored the eventual game-winner as they bombarded the net with time winding down in the game. Nicole Tritter notched her ninth goal of the year with only 1:47 left in the contest. After the score, Maine pulled Turgeon in favor of an extra skater, but the Huskies managed to gain control of the puck and Amy Hollstein put the game out of reach with 59 seconds to go.
Turgeon was phenomenal in the game, making 38 saves and allowing just two goals, but falling to 4-21-1 on the season. Turgeon now stands only 39 saves shy of breaking the program's single-season save record of 907, a mark she set last season. Connecticut's Wilson made 20 saves and improves to 15-6-2. The Black Bears were outshot 41-21 in the contest.
The University of Maine women's ice hockey team will host the Huskies again tomorrow, Saturday Feb. 14, at 2 p.m. in its final home game of the 2008-09 season.