Sunday, November 30, 2008
VERMONT DEFEATED BY CLARKSON, 9-1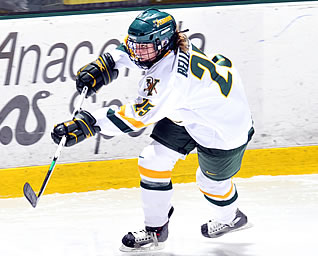 Shannon Bellefeuille scored the Catamount goal
POTSDAM, N.Y. -- Genevieve Lavoie scored twice and had three assists and Juana Baribeau scored two more goals to lead Clarkson to a 9-1 win over Vermont in a women's college hockey non- league game at Cheel Arena Sunday. The Catamounts, who completed a five-game road swing Sunday, fall to 3-11-1 while the ECAC Golden Knights, who are unbeaten in their last six, improve to 9-5-3.
One day after scoring all four goals in a 4-2 win over UVM, Baribeau opened the scoring 8:11 into the contest. Daris Tendler and Lavoie made it 3-0 after two periods before Clarkson broke it open with five goals in the final 20 minutes. Tendler netted another for the Golden Knights and Marie Jo- Gaudet and Kali Gallanders each scored once.
Vermont spoiled the shutout with 1:19 remaining when freshman blueliner Shannon Bellefeuille (Kanata, Ontario) scored her second goal of the season. Sophomore Molly Morrison (South Burlington, Vt.) and Kailey Nash (Middletown, R.I.) picked up assists on Bellefeuille's goal with Nash, another rookie defenseman, recording her first career point.
Clarkson outshot UVM, 32-21, for the game with a 12-3 advantage in the opening period. UVM's Ashley Walenty (Lake Placid, N.Y.) finished with 17 saves in 45 minutes of action including 11 stops in the first period to keep Vermont in the contest. Caitlin Whitlock (Westfield, N.J.) came in for Walenty in the third and made seven saves. Lauren Dahm (16 saves) and Danielle Murmes combined to stop 20 shots for the winners.
Both teams were whistled for only seven penalties in the game. The Catamounts went 0-for-2 on the power play and the Golden Knights were 3-for-5.
Vermont, which went 1-3-1 including a shootout win at Hockey East rival Maine on the road trip, returns to host Boston University Friday at 3 p.m. in its first game at Gutterson Fieldhouse since November 8th. The Cats also host Northeastern Saturday at 4 p.m.
Admission is free for all UVM students (with a valid ID) and Rally's Round Up members for all regular season home games. For ticket information please call 1-866-4-CAT-TIX or log on to www.UVMathletics.com.