Saturday, January 10, 2009
BLACK BEARS FALL TO CLARKSON, 4-1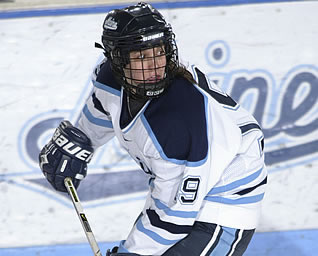 Vanessa Vani had an assist for Maine
Potsdam, N.Y. - The University of Maine women's ice hockey team fell 4-1 to Clarkson on Saturday afternoon, letting up three goals over the final 34 minutes after the score was knotted at 1-1 early in the second period. The Black Bears drop to 4-15-2 on the season while the Golden Knights improve to 10-6-4. Maine was led by Amy Stech (Duluth, Minn.) who tallied the team's lone goal.
The two teams played even for the first 20 minutes of the game before Clarkson broke the ice just 1:50 into the second period on a Danielle Boudreau goal from Katelyn Ptolemy and Daris Tendler, it was Boudreau's third score of the season.
The Black Bears evened the game at 4:12 into the second period on a power play goal by Stech off of passes from Melissa Gagnon (St. Gilles, Quebec) and Vanessa Vani (St. Catharines, Ontario), the tally tied Stech for the team lead with eight goals.
The Golden Knights reclaimed the lead at 6:06 in the second period as Genevieve Lavoie notched a power play goal from Britney Selina, putting Clarkson up 2-1. The score was Lavoie's fifth of the season.
The deficit was extended to 3-1 when Marie-Jo Gaudet scored an unassisted goal to open up the third period, her 14th of the season. Then Gabrielle Kosziwka put the game out of reach with the Golden Knight's fourth goal at 2:58 into the third period off of passes from Kimberly McKenney and Selina.
Turgeon made 34 saves as she dropped to 3-14-1 on the season. The Golden Knight's Lauren Dahm saved 12 shots to improve to 8-4-3. The Black Bears were outshot 38-13 on the night.
The Maine will try to bounce back as they host Boston University in a two-game series starting on Saturday, Jan. 17, at 7 p.m. The game will honor Special Olympic athletes and feature a ceremonial puck drop by two local athletes who are headed to the 2009 Special Olympics World Winter Games in Boise, Idaho.