BLACK BEARS EDGED BY CLARKSON, 3-2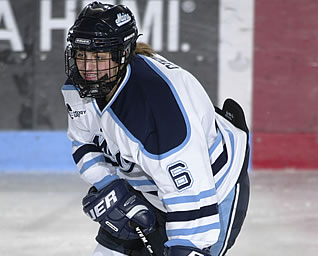 Amy Stech had a goal for the Black Bears
POTSDAM, N.Y. - Down by two goals with only a minute to play, Maine pulled its goaltender and scored with the extra attacker to bring the game back within reach. However, the Black Bears found themselves with too little time left as they dropped a 3-2 decision to Clarkson on Friday night. The University of Maine women's ice hockey team slides to 4-14-2 on the season while the Golden Knights improve to 9-6-4. The Black Bears were led by captain Vanessa Vani (St. Catharines, Ontario) who assisted on both Maine goals.
The Black Bears found themselves in a deep whole early because of one 15 second span in the first period. At 9:26 into the game, Marie-Jo Gaudet scored Clarkson's first goal and extended the Golden Knight's lead to 2-0 with her second goal at 9:41 into the period, her 11th and 12th scores this season, respectively. Maine played Clarkson even over the next 25 minutes before Gaudet completed a hat-trick with only 2:45 let in the second period.
The Black Bears responded just moments later as Vani and Myriam Croussette (Baie-Comeau, Quebec) set up teammate Jennie Gallo (Castlegar, British Columbia) for her team-leading eighth goal of the season to pull Maine back into the game with 2:11 seconds remaining in the second period. On the play, Vani became the new all-time assist leader at the University of Maine, passing Meagan Aarts as she notched her 55th career assist.
With time winding down the Black Bears pulled Genevieve Turgeon (Lac Beauport, Quebec), giving them six attackers to pound the Golden Knight net. With just four seconds left on the clock junior Amy Stech (Duluth, Minn.) squeaked the puck passed the red line and into the goal, drawing the game within one off of passes from Dawn Sullivan (Enfield, Nova Scotia) and Vani. The score was Stech's seventh goal of the season and Vani's 56th career assist. The goal proved to be too little too late as Maine was left without enough time to mount a final attack.
Turgeon saved 38 shots as she fell to 3-13-1 on the season. Clarkson's Eve Grandmont-Berube stopped 14 shots to improve to 2-2-1. The Black Bears were outshot 41-16 on the night.
Maine will look to even the score as they play the Golden Knights once again on Saturday afternoon starting 2 p.m.