Saturday, October 11, 2008
PROVIDENCE UPENDS COLGATE, 6-2
Six Friars posted multi-point games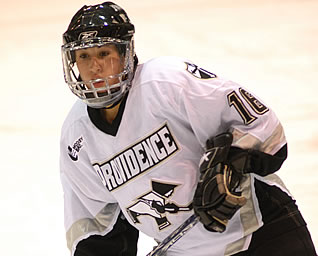 Katy Beach scored two goals for Providence
Providence, R.I. (October 11, 2008) - Providence College exploded for six goals to earn their first victory of the season. Senior Katy Beach (Cleveland, Ohio) tallied two goals on the night while freshman goaltender Genevieve Lacasse (Scarborough, Ontario) made 42 saves to earn the victory, the first of her career.
In a game that saw 26 penalties called, the Friars capitalized with four power-play goals and one short-handed score. Senior Mari Pehkonen (Tampere, Finland) put the Friars on the board at 2:33 of the initial stanza with a shot into the left side of the net following a session of great puck movement. The goal, her second of the season, was assisted by Alyse Ruff (Tualatin, Ore.) and Brittany Simpson (Barrie, Ontario).
At 12:01, Providence earned a five-on-three advantage and freshman Laura Veharanta (La Verne, Calif.) made sure to make the most of the opportunity. Pehkonen took the puck from the right corner behind Colgate net-minder Elayna Hamashuk and sent a pass to the blue line to Erin Normore (Cambridge, Ontario). Normore fired a pass through the crease directly into Veharanta who one-timed the puck past the helpless Hamashuk.
As has been the case all season, the freshman class helped power the Friar attack. During a Red Raider power-play, Ashley Cottrell (Sterling Heights, Mich.) dispossessed a Colgate player on the Friar blue line before stick-handling through the neutral zone past three defenders and maneuvering around the goaltender in order to slide the puck into the net. The short-handed goal was the first point of her career.
At the end of one period, Lacasse had made 15 saves in order to keep the Friars up, 3-0.
The second period produced two goals for each team as PC registered their only even strength goal. Alyse Ruff earend her second point of the net when she scored off a feed from Colleen Martin (Woburn, Mass.) at 7:18 of the second period. Colgate earned their first goal of the game when Kristi-Lyn Pollock scored at 9:10 off an assist from Katie Stewart. The two teams exchanged power-play goals to end the second period. Beach would tally her first score of the night at 16:32 off a feed from Martin to put the Friars up, 5-1. The Red Raiders would cut the lead to three with only one second remaining in the period. Senior Clancy Todd stuffed the puck past Lacasse after a pass from Kiira Dosdall.
The Friars added their sixth goal 7:53 into the final period. Providence earned another power-play and Beach would register her third score of the season. The assists went to Veharanta and Normore.
Lacasse stopped 42 of 44 shots on the evening improving, her record to 1-2 for the season. With the win, Providence becomes 1-3, while Colgate falls to 1-2 on the season.
The Friars are next in action on Saturday, October 18 at 1:00 p.m. when they travel to Northeastern for their first Hockey East game of the season