CATAMOUNTS HOLD OFF TERRIERS, 3-2
Senior Ashley Walenty registers 34 saves for Vermont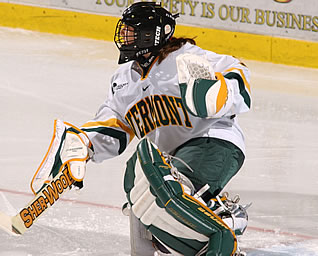 Ashley Walenty made 34 saves for Vermont
BURLINGTON, Vt. -- A pair of goals by Teddy Fortin (Brunswick, Maine) and a strong team defensive effort led by goalie Ashley Walenty (Lake Placid, N.Y.) gave Vermont a 3-2 win over sixth-ranked Boston University in a women's Hockey East matinee Friday at Gutterson Fieldhouse. The victory was UVM's first-ever over a ranked opponent and snapped an eight-game losing streak to the Terriers that included five shutouts in the last six meetings.
Walenty made a season-high 34 saves including stopping 17 BU shots in a second period barrage to lift UVM (4-11-1, 2-4- 0 Hockey East) to its second straight win in league play. The defeat was the first in Hockey East for the Terriers (8-4-3, 5- 1-0).
"This was just an awesome win for us and it came from a total team effort," said Vermont coach Tim Bothwell. "We had contributions from everyone from Ashley (Walenty) on out. We started with a tremendous first period, the best period of hockey I have seen out team play in my three years here. Our line of Jul Sifers (New London, Conn.),Channing Ahbe (Centennial, Colo.) and Lindsay Cashman (Milwaukee, Wisc.) gave us some great minutes today especially early in the game. We also showed a lot of patience on the power play to score a couple of big goals."
Vermont controlled the play in the opening stanza with a 10-5 advantage in shots and Fortin, assisted by Kyleigh Palmer (Winnipeg, Manitoba) and Kailey Nash (Middletown, R.I.), put the Catamounts on the board with a power play goal 3:43 into the contest. At 12:28, Celeste Doucet (Memramcook, New Brunswick) made it 2-0 rapping home a rebound at the crease. Brittany Nelson (Shelburne, Vt.) and Sarah Smiddy (Grand Rapids, Mich.) picked up assists on Doucet's third goal of the season.
Boston University jumped all over the Catamounts to start the second with Walenty making several early stops to keep the 2-0 lead. Despite the territorial disadvantage it was UVM and Fortin who scored the lone goal of the period at 8:32. Peggy Wakeham (Bay Roberts, Newfoundland) and Erin Barley- Maloney (Raleigh, N.C.) set up Fortin at the goalmouth as the Cats cashed in again with an extra skater.
The Terriers battled back in the final period as Amanda Shaw scored on the power play at 5:41 to make it 3-1. Vermont kept BU at bay until Gina Kearns made it a one-goal contest taking advantage of a turnover at mid-ice with an unassisted tally with 1:12 remaining. The Catamounts and Walenty then held off any bid by BU for the equalizer down the stretch to earn the victory, the team's first in seven games at home this season.
Boston University outshot UVM, 36-19, for the contest with Allyse Wilcox making 16 saves for the Terriers. The Catamounts went two-for-five on the power play and killed off four of the five BU opportunities. Through the first 16 games this season, Vermont has now scored 15 power play goals to equal its total from all 34 games in 2007-08.
It was the first multi-goal game for Fortin, a sophomore who now leads the Cats with 11 points. She also is tied for the team-lead with five goals with three coming in the last three games. She also tallied the deciding goal in UVM's shootout win at Maine on November 25.
Vermont hosts Northeastern Saturday at 4 p.m. at Gutterson Fieldhouse before taking a 23-day break for exams and the holidays. The game with the Huskies is also Victory Club Appreciation Day with all Victory Club members receiving up to four free tickets. Admission is free for all UVM students (with a valid ID) and Rally's Round Up members for all regular season home games. For ticket information please call 1-866-4-CAT-TIX or log on to www.UVMathletics.com.