BOSTON UNIVERSITY EDGES UNION, 3-2
Freshman Jenelle Kohanchuk posts goal and two assists for Terriers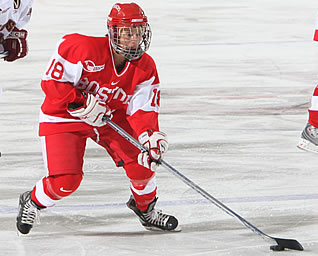 Jillian Kirchner had a goal and an assist for the Terriers
SCHENECTADY, N.Y. - Freshman Jenelle Kohanchuk tallied three points in her collegiate debut, netting the game-winning goal as the Boston University women's ice hockey team opened the season with a 3-2 win over Union on Friday night at Frank Messa Rink. Junior Sarah Appleton and sophomore Jillian Kirchner also scored for the Terriers in a game that BU dominated early before holding off a late comeback by the Dutchwomen.
BU outshot Union by a 33-2 margin over the first two periods and held the Dutchwomen without a shot on goal in the second while scoring twice, but Union came back in the third, holding a 12-7 advantage in shots and scoring twice, taking advantage of power-play opportunities.
Appleton put the first goal of the season on the board for the Terriers, scoring late in the first period off assists from Kohanchuk and Kirchner. Kirchner, who scored the overtime game-winner in Sunday's exhibition win against Dawson, scored 14:24 into the second period to make it a two-goal lead as senior Gina Kearns set her up with the first of two assists on the evening.
BU looked to have the game in hand after 40 minutes, but the Dutchwomen played their best hockey and capitalized on their scoring chances in the third.
When a pair of Terrier penalties gave Union a two-man advantage, senior Suzy Pocock got the Dutchwomen on the board, converting on a pass from freshman Dania Simmonds at 7:46 in the final frame.
Kohanchuk restored the two-goal cushion at 12:38, providing her first collegiate tally that ended up being the game-winner with an assist coming from Kearns.
Union made one last push when successive penalties gave the Dutchwomen another two-man advantage with 69 seconds left in the period. The home side pulled their goalie to create a six-on-three situation, a move that paid dividends when Pocock and sophomore Marissa Gentile set up junior Jackie Koetteritz, who struck with 41 ticks on the clock to bring Union back within one.
After that, BU killed off the remaining penalty without allowing another shot on goal to hold on for the win. Senior Allyse Wilcox made 12 saves to earn the win as the Terriers held a 40-14 advantage in shots on goal over the course of the game. Senior Lundy Day stopped 37 shots in defeat across the ice for the Dutchwomen.
BU was held scoreless on four power-play opportunities, while Union collected its two power-play goals on eight chances.
The Terriers are back in action tomorrow (Oct. 4), continuing their road trip with a matchup against Rensselaer at 2 p.m. in Troy, N.Y. The team is back in Boston for the home opener on Friday, Oct. 10, hosting sixth-ranked Mercyhurst at 7 p.m. at Walter Brown Arena.