Saturday, October 4, 2008
BOSTON UNIVERSITY FALLS TO RENSSELAER, 2-0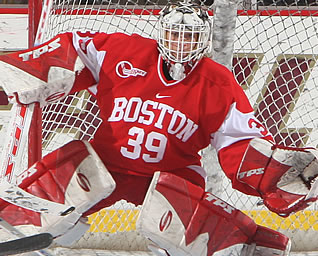 Allyse Wilcox made 33 saves for the Terriers
TROY, N.Y. - Rensselaer sophomore goaltender Sonja van der Bliek stopped all 23 shots she faced to lead the Engineers to a 2-0 win over the Boston University women's ice hockey team on Saturday afternoon. Sophomore Kendra Dunlop and junior Allysen Weidner scored for RPI, who improved to 1-1, while the Terriers fell to 1-1 and remained winless in three all-time appearances at Houston Field House.
The Engineers held a 35-23 advantage in shots on goal in the contest, outshooting BU in the first and third periods, the two frames in which RPI scored its goals.
Dunlop put the Engineers on the board at 12:17 in the first, getting assists from freshman Sierra Vadner and junior Whitney Naslund and scoring her first goal of the season.
The Terriers put forth their best effort in the middle period, but were unable to solve van der Bliek, who made 11 saves in the period to keep BU frustrated.
The Terriers kept RPI within striking distance, successfully killing off a two-man advantage midway through the third period, but the Engineers struck a damaging blow by adding another tally with 67 seconds to go as junior Allison Wright and senior Jamie-Lynn Stewart set up Weidner for her first goal of the season.
BU pulled its goalie soon after and an RPI penalty gave the Terriers a two-man advantage for the final 43 seconds, but BU was unable to get off another shot to get back in the game.
Each side had its share of power-play opportunities, but were unable to convert as the Terriers went 0-for-7, while the Engineers were 0-for-8 on the man advantage.
Senior Allyse Wilcox made 33 saves between the pipes for the BU.
The Terriers are back in action on Friday (Oct. 10), hosting sixth-ranked Mercyhurst for the home opener at Walter Brown Arena at 7 p.m. to kick off a season-long six-game homestand.