Saturday, November 15, 2008
BOSTON UNIVERSITY DEFEATS QUINNIPIAC, 5-1
Anderson registers three assists, Seman posts two goals for Terriers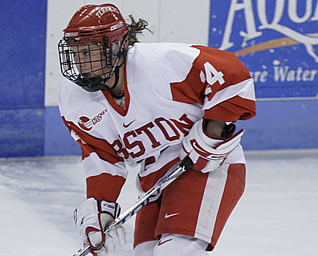 Melissa Anderson had three assists for the Terriers
HAMDEN, Conn. - Powered by a pair of goals from senior Erin Seman and three assists from junior Melissa Anderson, the No. 7 Boston University women's ice hockey team skated to a 5-1 win over Quinnipiac on Saturday afternoon at the TD Banknorth Sports Center. The win boosts the Terriers to 7-2-3 as BU is now unbeaten in its last nine games.
The Terriers were dominant for much of the contest, holding a 27-8 advantage in shots on goal. Junior Melissa Haber made seven saves between the pipes to earn the win for BU.
Senior Gina Kearns put the Terriers on the board first, taking a cross from freshman Jenelle Kohanchuk and firing it over the stick of Quinnipiac junior netminder Nanna Holm-Glaas for her sixth goal of the season at 11:48 of the opening frame. The Bobcats leveled the score on the power play late in the period when junior Evelina Husar netted her first of the season.
BU answered by bookending the first intermission with a pair of goals to take a lead the Terriers never relinquished. Anderson won a faceoff and sophomore Lauren Cherewyk ripped a shot over the right shoulder of Holm-Glaas, scoring her team-leading seventh goal of the season and second game-winning goal with one second remaining in the first.
That goal chased Holm-Glaas from the game after making three saves in the opening stanza. She was replaced by sophomore Tia Wishart, who was welcomed to the game with a goal from Seman 26 seconds into the second. After another faceoff win by Anderson, who was 16-2 on faceoffs in the game, she passed to Seman who put in a high shot.
Seman made it a three-goal lead late in the second with another goal assisted by Anderson. With a scuffle in front of the QU goal, Seman picked up Anderson's rebound and slipped it by Wishart for her sixth goal of the season.
Freshman Tara Watchorn completed the scoring 5:08 into the third with a superb goal. The rookie defenseman beat a Bobcat defender and snuck the puck over Wishart's glove side to push the score to 5-1.
Wishart made 19 saves, allowing three goals over her two periods of work. The Terriers only had 35 seconds of power-play time and did not convert, while Quinnipiac was 1-for-3 on man-up chances.
The Terriers return to Hockey East play on Saturday, Nov. 22, continuing a season-long five-game road swing with a visit to Chestnut Hill, Mass., to face No. 6 Boston College.