Thursday, January 8, 2009
SULYMA LEADS NORTHEASTERN PAST BOSTON UNIVERSITY, 2-0
Leah Sulyma posts 31 saves in shutout performance for NU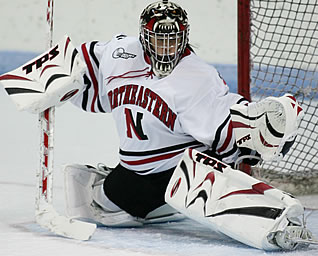 Leah Sulyma made 31 saves for the Huskies
BOSTON - Sophomore goaltender Leah Sulyma stopped all 31 shots she faced to lead Northeastern to a 2-0 win over the ninth-ranked Boston University women's ice hockey team on Thursday evening at Walter Brown Arena. It was the second straight Hockey East game in which the Terriers have been shut out as BU falls to 9-6-5 overall and 6-3-0 in conference play.
Junior Lindsay Berman gave the Huskies the only goal they needed in the opening minute of play and sophomore Lori Antflick tacked on an insurance goal on the power play in the second period to help Northeastern snap a three-game losing streak and even its record at 8-8-2 overall with a 5-4-0 mark in Hockey East. Sulyma picked up her third shutout of the season, the fifth overall for the Huskies.
On the opening shift of the game, sophomore Julia Marty and junior Missy Elumba got the puck to Berman in traffic in the low slot, where she sent in her first goal of the season at the 48-second mark to give Northeastern a lead it never relinquished. The balance of the first period was a defensive battle that saw an 8-5 edge in shots for the Terriers.
A parade of Terriers to the penalty box in the second period finally paid off for the Huskies late in the frame when Antflick netted her second goal of the season on the power-play at 18:11. Antflick sent in a one-timer on the near side after taking a smooth pass across the slot from junior Annie Hogan, with classmate Katy Applin getting the second assist.
Northeastern was 1-for-9 on the power play in the game, with seven of those opportunities coming in the second period. The Terriers spent 18 minutes in the penalty box, the most for the team since October 2007. BU, meanwhile, was held scoreless on eight power-play chances.
The final frame saw the Terriers with all the offensive chances, outshooting the Huskies by a 16-2 margin, but Sulyma held strong to keep BU off the board. Northeastern was whistled for two penalties within the final four minutes, but even with the goalie pulled for a two-man advantage, the Terriers were unable to score, coming closest on an offering from senior Sarah Russell that caught the far post.
Senior Allyse Wilcox was solid in defeat between the pipes, making 14 saves for BU.
The Terriers return to action on Saturday (Jan. 10), kicking off a four-game road swing with a Hockey East clash at Connecticut with game time set for 1 p.m. in Storrs.