Tuesday, February 10, 2009
TERRIERS TOP HUSKIES, 2-1, IN BEANPOT CONSOLATION
Jenelle Kohanchuk posts goal and assist for Terriers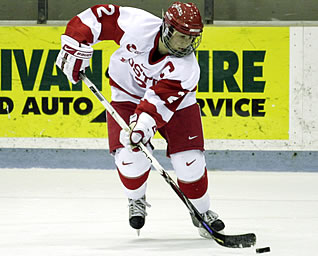 Sarah Russell scored the game-winner for the Terriers
BOSTON - Senior Sarah Russell scored the game-winning goal with 57 seconds remaining to lift the Boston University women's ice hockey team to a 2-1 win over cross-town rival Northeastern in the third-place game of the 31st Women's Beanpot on Tuesday evening at Matthews Arena. Junior Melissa Haber made 17 saves in goal for the Terriers, who improved to 15-10-6 this season.
In her return to the lineup after missing seven games due to illness, freshman Jenelle Kohanchuk was involved in both BU goals, scoring the first and assisting on Russell's game-winner.
In the final minute of play, Kohanchuk gained the puck in the defensive zone and skated all the way to the other end of the ice before dishing to a streaking Russell in the slot, who fired in her third goal and second game-winner for the Terriers this season.
"We had a tough week last week and we really wanted to rebound," said Russell. "We've never come in fourth in the Beanpot in four years so that was big for us."
Freshman Florence Schelling made 30 saves and sophomore Kristi Kehoe scored the lone goal for the Huskies, who fall to 11-16-3 and finish fourth in the Beanpot for the fourth straight season.
The score was deadlocked for most of the game as the two teams traded tallies less than a minute apart in the first period. Northeastern broke through first, taking advantage of its first power-play opportunity of the game. With senior Laurel Koller in the box, sophomore Kristi Kehoe jammed in the puck amidst a scrum in front of the net for her team-leading 16th goal of the season, thanks to assists from sophomore Alyssa Wohlfeiler and junior Lindsay Berman 13:53 into the game. The Huskies' only goal came on the first of five power-play opportunities, while BU was 0-for-3 on the man advantage.
The Terriers answered within a minute of Kehoe's strike when freshman Tara Watchorn sent a pass from the defensive zone to Kohanchuk via a neutral-zone touch by senior Gina Kearns. Kohanchuk skated from the blue line around the back of the net before leveling the score with a five-hole shot for her 10th goal at the 14:41 mark.
BU held a 32-18 advantage in shots on goal in the game, outshooting Northeastern in each period.
The Terriers return to Hockey East action on Saturday (Feb. 14) with a trip to Chestnut Hill to face Green Line rival No. 7 Boston College. Please note that the start time of Saturday's game has been moved to 1 p.m.