Saturday, January 17, 2009
BOSTON UNIVERSITY UPENDS MAINE, 5-2
Holly Lorms has three-point game for Terriers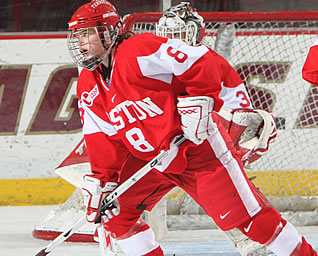 Holly Lorms had a goal and two assists for the Terriers
ORONO, Maine - The University of Maine women's ice hockey team dropped a 5-2 decision to Boston University on Saturday night. The game served as a tribute to local Special Olympics athletes and featured a ceremonial puck drop by two athletes who will be attending the Special Olympics World Winter Games in Boise, Idaho. The Black Bears slide to 4-16-2 overall and 1-8-1 in conference play. The Terriers improve to 10-7-5 on the season and 7-4-0 in Hockey East. Maine was led by Lexie Hoffmeyer (Grand Blanc, Mich.) who assisted on both Black Bear goals.
Boston University burst onto the scene with a score just 1:39 into the game as Lauren Koller rifled a shot at goaltender Genevieve Turgeon (Lac Beauport, Quebec) that was saved, but a big rebound gave linemate Gina Kearns the space she needed to earn her ninth goal of the season.
The Terriers scored three times in the second period starting with a Jonnie Bloemers goal off of a pass from Holly Lorms at 10:12 into the period to make it 2-0. Boston University's Melissa Anderson then extended the lead just over three minutes later, after receiving a pass from Jilla Kirchner for her sixth goal of the season. Maine's Vanessa Vani (St. Catharines, Ontario) then attempted a cross-ice pass in the Black Bear zone that was intercepted by Holly Lorms who was able to beat Turgeon for the score at 16:51 into the second period.
Maine finally got on the board as the second period was winding down. With just 1:20 left, Jenna Ouellette (Winnipeg, Manitoba) beat netminder Allyse Wilcox as she was positioned just infront of the goal for her eighth score of the season, making it 4-1. Hoffmeyer assisted on the play. Click here to find out more!
The Black Bears cut the lead to two with a Jessica Bond (Namur, Quebec) power-play goal at 7:22 into the third period. Elyce Thomas (Port Coquitlam, British Columbia) and Hoffmeyer set up Bond near the blue line to the goalie's right and the freshman powered in a shot that ricocheted off of a Terrier defender and into the net, it was Bond's second goal of the season.
Boston University ended any chance at a comeback with a second Bloemers goal off of passes from Lorms and Erin Seman with 5:11 remaining in the contest.
Turgeon made 28 saves as she dropped to 3-15-1 on the season. The Terrier's Wilcox saved 24 shots to improve to 7-5-3. Maine was outshot 33-26 on the night.
The ceremonial puck drop was by Caitlyn Gunn and Jackie Contino who will competing in the Special Olympics World Winter Games starting Saturday, Feb. 7, in Boise, Idaho. They will be among nearly 3,000 Special Olympic athletes from over 100 countries competing in the ninth installment of the World Winter Games.
Gunn, a graduate of Hampden Academy, is a speed skater who has been involved with the Special Olympics for 18 years and represented Maine in the 2001 World Games in Anchorage, Alaska. Contino currently attends Bangor High School and will be competing in Alpine Skiing, this will be her first World Games. She is also a member of several local swim teams, including the Bangor High team that claimed the Class A State Championship in 2007-2008.
The Black Bears will look to even the score as they host Boston University once more on Sunday evening at 5:30 p.m.