Saturday, February 7, 2009
BOSTON UNIVERSITY UPENDS CONNECTICUT, 3-1
Jonnie Bloemers and Tara Watchorn each post goal and an assist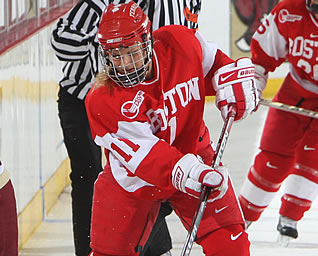 Jonnie Bloemers had a goal and an assist for BU
BOSTON - The Boston University women's ice hockey team skated to a 3-1 win over ninth-ranked Connecticut on Saturday afternoon at Walter Brown Arena, beating the Huskies in regulation after earning a shootout win the night before. Junior Jonnie Bloemers and freshman Tara Watchorn each notched a goal and an assist, while senior Amanda Shaw scored the game-winning goal for the Terriers, who improve to 14-10-6 overall and 12-6-0 in the Hockey East standings.
Senior Caroline Bourdeau assisted on two goals for her first multiple-point game of the season and senior Allyse Wilcox made 23 saves between the pipes for BU, who took two points for the fourth straight conference game.
Freshman Monique Weber scored the lone goal and senior Brittany Wilson stopped 19 shots in net for Connecticut, who fell to 18-9-3 overall and 10-6-1 in conference play.
After a scoreless first period in which the Huskies held an 11-4 advantage in shots on goal, Bloemers broke through for the Terriers early in the second frame. Senior Laurel Koller sent a cross-ice pass from the boards to Bloemers, who was stationed at the far post to knock in her fifth goal of the season 2:21 into the period.
Connecticut quickly answered, scoring 1:24 later when freshman Monique Weber ripped a shot from the right circle for her eighth collegiate tally.
The score remained deadlocked until a BU power play in the final minute of the second, one of just three man-up opportunities in the game for the Terriers. With senior Brianna Uliasz serving a holding penalty, Watchorn sent in an offering from the point that was redirected by Shaw en route to the back of the net, giving Shaw her second goal of the season and giving the Terriers a 2-1 edge at the second intermission.
BU got some breathing room early in the third when Bourdeau collected a rebound from a Bloemers shot and skated it behind the net before dishing to Watchorn, who fired a top-shelf shot from the slot to give the Terriers a two-goal cushion with her fifth goal.
Connecticut held a 24-22 edge in shots on goal for the game, despite being outshot in each of the final two periods, and was stonewalled on three power-play opportunities.
The game was part of Hockey East's third annual Skating Strides Against Breast Cancer campaign, a program that has raised almost $60,000 for breast cancer charities in its first two seasons.
The Terriers return to action on Tuesday (Feb. 10) at 5 p.m., visiting Northeastern for the consolation game of the 31st Women's Beanpot at Matthews Arena.