Saturday, October 18, 2008
BOSTON UNIVERSITY DEFEATS CLARKSON, 2-1
Gina Kearns scores twice for Terriers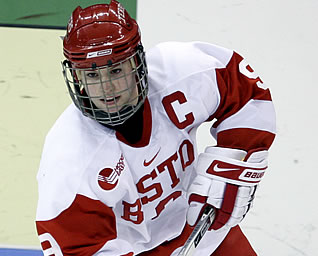 Gina Kearns scored both Terrier goals
BOSTON - Senior Gina Kearns scored two goals as the Boston University women's ice hockey team held off Clarkson to claim a 2-1 victory on Saturday afternoon at Walter Brown Arena. The Terriers improve to 3-2-0 with the win, while the Golden Knights remain winless at 0-2-1.
Kearns netted both her tallies in the first period, getting assists from senior defenseman Sarah Russell on both scores for her second two-goal game in the last three outings. Junior Melissa Haber played an excellent game between the pipes for BU, stopping 28 shots to thwart any potential Clarkson comeback and earn the win.
"(Haber) had an outstanding performance," said head coach Brian Durocher. "She was highly competitive and I think she was relaxed out there as well. I've said all along that she's an established Division I goalie."
The Terriers wasted no time in jumping out to an early lead, getting the first goal just 28 seconds into the game. Russell gained control of the puck in her own defensive zone and sent a long cross-ice pass up to Kearns. Kearns was barely to the left circle when she unleashed a long shot that found the back of the net.
BU was dominant for most of the first period, holding an 11-3 advantage in shots on goal, and Kearns capitalized again late in the frame on the power play when junior defenseman Sarah Appleton found Kearns in the low slot and Kearns sent in a shot that clanked off the crossbar on its way in to give the Terriers a two-goal cushion.
After the opening stanza, the Golden Knights increased the pressure throughout the game with an effort that paid off with a goal 14:12 into the second. Junior Britney Selina crossed to freshman Juana Baribeau, who popped in the puck from the right circle for the second goal of her rookie campaign.
BU had its best chance to gain some breathing room with a two-man advantage for 1:33 in the third period, but the Terriers' efforts were stymied by sophomore netminder Lauren Dahm, who made 25 saves in the contest.
Clarkson had its own five-on-three opportunity for 43 seconds midway through the third, but Haber kept the Golden Knights from breaking through to tie the game and held off a determined Clarkson attack for the duration as the Golden Knights had a 15-7 edge in shots on goal in the final frame.
BU continues its six-game homestand on Sunday (Oct. 19) at 3 p.m., hosting No. 6 St. Lawrence at Walter Brown Arena. Live streaming video is available for all home games this season through BU All-Access on GoTerriers.com.