Saturday, January 3, 2009
Northeastern falls to Brown, 2-1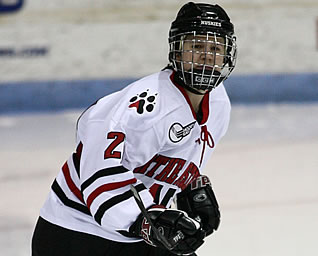 Katy Applin
Providence, R.I. - Freshman Stephanie Gavronsky scored for Northeastern today, but it would not be enough as the Huskies fell to the Brown Bears, 2-1 in Providence on Saturday.
Northeastern falls to 7-8-2 on the season.
The Huskies outshot the Bears 9-5 in the first period, but neither team was able to get on the board.
Early in the second period, a hooking call on Missy Elumba and a slashing call on Lindsay Berman gave Brown a five-on-three advantage. Northeastern's penalty kill has excelled all season, but could not survive the two-man disadvantage, and surrendered a goal to the Bears' Erica Kromm.
Kromm got on the board again early in the third period to extend Brown's lead to two goals. The Huskies turned up the offensive presure as they tried to get back in the game, outshooting Brown 11-2 in the third frame. The offensive effort paid dividends in the form of a Stephanie Gavronsky strike at 5:03. The Huskies could not find the equalizer, however, and ultimately fell 2-1.
The Huskies travel to Boston University Thursday, Jan. 8 before hosting Niagara Jan. 10 and 11.