Sunday, September 28, 2008
PROVIDENCE NOTCHES 4-1 WIN OVER BRAMPTON JR. THUNDER
Junior forward Jackie Duncan scores two goals for PC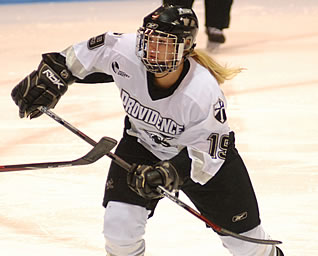 Jackie Duncan scored twice for Providence
Providence, R.I. (September 28, 2008) - In the first action of the season, the Providence College women's hockey team defeated Brampton Junior Thunder, 4-1, in an exhibition game at Schneider Arena behind two goals from junior forward Jackie Duncan (Kitchener, Ontario).
The Friars scored their first goal of the game, a short-handed tally, at 3:44 of the first period as senior forward Mari Pehkonen (Tampere, Finland) gathered the puck on the right boards and ripped a shot into the top left corner of the net. The Friars increased their lead to 2-0 at 7:29 in the second period as Duncan tallied her first of two goals on the afternoon. The goal was assisted by freshman Abby Gauthier (Lynn, Mass.) and senior Brittany Simpson (Barrie, Ontario).
Brampton was able to put one on the board at 12:29 of the second period when Olivia Crossley slid one past Friar goaltender Jennifer Smith (St. Albans, Vt.). The goal was assisted by Ally Brindamor-McClure and Courtney Brindamor-McClure.
The third period saw the Friars net two insurance goals as Duncan scored her second of the match at 11:47 off an assist from classmate Arianna Rigano (Malden, Mass.). Freshman forward Laura Veharanta (La Verne, Calif.) finished up the scoring at 15:32 as she lifted the puck over the goaltender after a pass from fellow freshman Jennifer Friedman (San Gabriel, Calif.).
The Friars return to action on Friday, October 3, as they take on Ohio State in a weekend series. The first game will be played at Schneider Arena starting at 7:00 p.m. Game two will be played on Saturday, October 4, beginning at 4:00 p.m.