Saturday, October 11, 2008
NORTHEASTERN TIES BEMIDJI STATE, 2-2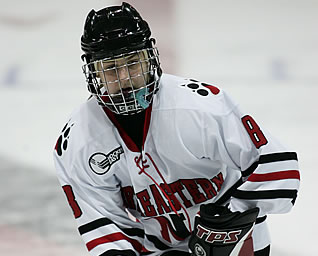 Alyssa Wohlfeiler had a goal and an assist for NU
Bemidji, Minn. - The Huskies skated to a 2-2 tie with Bemidji State Saturday at Bemidji's Glas Fieldhouse Saturday. Northeastern is 2-0-2 through four non-conference games this season.
The Huskies did all of their scoring early, finding the net twice in the first period. Kristi Kehoe scored her team-leading fifth goal of the season midway through the first period to give the Huskies the lead. Alysssa Wohlfeiler tallied her fourth goal of the season less than two minutes later to give the Huskies a two-goal margin. Kehoe and Wohlfeiler have combined for nine of Northeastern's 11 goals so far this season.
The Huskies looked like they would hold on for the win, but Bemidji State scored two quick extra-attacker goals in the last two minutes of the 3rd period to force overtime. Sophomore goalie Leah Sulyma played solidly for most of the game, making 40 saves on the night and holding the Beavers scoreless for 58 minutes of regulation and the entire overtime period.
Neither squadscored in overtime, so the teams proceeded to a shootout. Missy Elumba, Stephanie Gavronsky and Lori Antflick were not able to convert for the Huskies, opening the door for Bemidji State's Erin Cody, who netted the shootout-winning goal.
The Huskies return home to Matthews Arena for their next game against Providence Oct. 18 at 1 p.m. The game will have live web video at GoNU.tv.