NORTHEASTERN TIES BEMIDJI STATE, 0-0
Florence Schelling makes 40 saves for the Huskies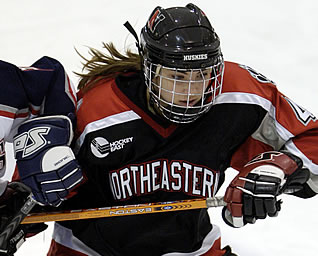 Ali Bielawski had three shots in the game for NU
BEMIDJI, Minn. - The Huskies played the Bemidji State Beavers to a 0-0 tie through regulation and overtime Friday at Bemidji's Glas Field House before falling 2-1 in a shootout.
The Huskies were able to stay deadlocked with the Beavers despite being outshot 40-28. Freshman goalie Florence Schelling made 40 saves to keep the Beavers off the board through four periods.
Annie Hogan provided much of the offensive effort for Northeastern, firing six shots on goal in the contest. Sophomore Julia Marty added four.
After executing well on special teams last weekend, the Huskies could not convert on seven power-play chances.
Despite the shootout loss, the game will be recorded as a tie, per NCAA rules.
The two teams play again Saturday at 3 p.m. The Huskies's next home game is Sat. Oct. 18 at 1 p.m. in Matthews Arena against Providence.