Saturday, January 24, 2009
BOSTON COLLEGE SHUTS OUT VERMONT, 5-0
Kelli Stack and Allie Thunstrom each post goal and assist for Eagles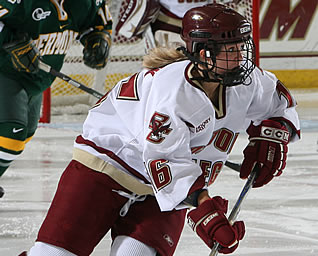 Kelli Stack had a goal and an assists for the Eagles
BURLINGTON, Vt. -- Timely goals and solid goaltending by Molly Schaus lifted fifth-ranked Boston College to a 5-0 win over Vermont in a women's Hockey East contest Saturday afternoon at Gutterson Fieldhouse. Schaus finished with 19 stops including two stellar saves late in the second period to protect a one-goal lead in recording her seventh shutout of the season.
The Catamounts (5-19-1, 3-9-0 Hockey East) played the first place Eagles even for the first two periods before BC, behind Schaus and goals by Kelli Stack and Allie Thunstrom two minutes apart, took control of the contest. With the win, Boston College (15-5-3, 9-3-1) remains on top of the Hockey East standings with 19 points.
"Our effort over the first two periods was impressive. We competed very hard and did a lot of good things against a very good team," said Vermont coach Tim Bothwell. "Their goaltender made a ton of big saves at some key times. The late goal in the second period and the goal early in the third really deflated us. Overall, I saw a lot of positives for our team out there today to take with us into tomorrow's game."
Both teams had several good scoring chances over the first 30 minutes of action. Vermont's Celeste Doucet (Memramcook, New Brunswick) had two good bids midway through the opening period and with eight minutes before the first intermission, Jackie Thode (Aurora, Colo.) had Schaus beat but her drive from the high slot rattled off the crossbar. UVM goalie Kristen Olychuck (Kelowna, British Columbia) also was tested stopping Thunstrom in the early going and Maggie Taverna midway through the second to keep the game scoreless.
With 7:58 to go in the middle period, BC got on the scoreboard as Becky Zavisza rapped home a rebound of a shot by Katelyn Kurth. Vermont then had two great chances to tie it but Schaus stopped Erin Barley-Maloney (Raleigh, N.C.) on the doorstep after a faceoff and then robbed Brittany Nelson (Shelburne, Vt.) from point blank range on a two-on-one with Chelsea Furlani (Colchester, Vt.).
Boston College seized control before the break as Stack, on an assist from Thunstrom, scored her 16th goal with 1:01 left. Thunstrom made it 3-0 just 52 seconds into the final period with a power play goal. The Eagles took advantage of a pair of UVM turnovers to close out the scoring on goals by Megan Shea and Lauren Wiedmeier.
Olychuck finished with 20 saves, 16 in the first two periods, as BC had a 25-19 advantage in shots. Both teams had only two power play opportunities with the Eagles cashing in on one. In addition to Stack and Thunstrom who each had a goal and an assist on the afternoon, Mary Restuccia also chipped in with two assists.
Vermont and Boston College close out the series Sunday at 2 p.m. at Gutterson Fieldhouse. Admission is free for all UVM students (with a valid ID) and Rally's Round Up members for all regular season home games. For ticket information please call 1-866-4-CAT-TIX or log on to www.UVMathletics.com.