Wednesday, October 8, 2008
NEW HAMPSHIRE EDGES BOSTON COLLEGE IN SHOOTOUT
Kacey Bellamy scores in fifth round of shootout to win game for UNH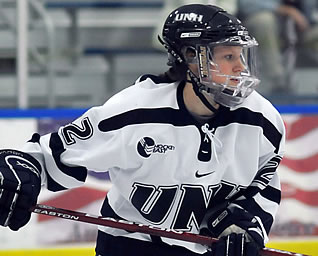 Kacey Bellamy won the first WHEA Shootout for UNH
DURHAM, N.H. - Micaela Long (South Boston, Mass.) netted a third-period power-play goal to lift the fourth-ranked University of New Hampshire women's ice hockey team to Wednesday night's 2-2 Hockey East tie against 10th-ranked Boston College at the Whittemore Center.
In the first shootout in the history of Women's Hockey East - the league implemented the system this season - senior defenseman and captain Kacey Bellamy (Westfield, Mass.) scored in the fifth round to give UNH the 1-0 shootout victory. The game is officially a tie for both teams and there are no individual statistics awarded, but the Wildcats gain an extra point in the league standings for the shootout win.
UNH is now 0-0-1 on the season and 39-2-3 lifetime vs. Boston College, which is 2-0-1 overall and 0-0-1 in Hockey East. New Hampshire extended its Hockey East record regular-season unbeaten streak to 39 games (35-0-4) and its mark in Hockey East home games to 53-0-8.
Sam Faber (Mt. Sinai, N.Y.) gave the 'Cats a 1-0 lead at 11:01 of the first period on a shorthanded goal. Kelly Paton (Woodstock, Ontario) blocked a pass in the neutral zone and flipped the puck forward. Faber chased down the puck behind the defense to create a breakaway goal.
On that same BC power play, however, the Eagles pulled even when Kelli Stack potted the first of her two power-play goals at 11:45. Allie Thunstrom, with the pass from the slot to Stack down low on the right side, and Danielle Welch set up the tally.
The Eagles went ahead 2-1 at 17:42 of the opening frame when Stack lifted a backhander from the slot into the net. Thunstrom and Maggie Taverna were credited with assists.
BC - already 2-for-5 with the extra skater - had a 5x3 power play opportunity for 1:18 midway through the second stanza but did not generate a shot on goal.
Faber had another shorthanded breakaway with 1:25 remaining in the second period. She drove down the slot and shifted to the right, but Schaus was in position at the post to make the save.
UNH, which recorded a 9-2 shot advantage in the second period, continued to carry momentum into the final frame. Schaus preserved the Eagles' one-goal lead, however, including a save against a strong redirection from Jenn Wakefield (Pickering, Ontario) from low in the slot.
The 'Cats finally pulled even, 2-2, on Long's goal at 10:55. Wakefield's initial shot from the right circle hit Schaus and carried behind the goalie, then Long pushed the puck across the goal line. Angela Taylor (Paisley, Scotland) was credited with an assist.
Both teams had another power-play opportunity in regulation, but Herman and Schaus kept the game deadlocked. Herman stopped the only shot she face in overtime to finish with 19 overall, while Schaus made two saves in OT to finish with 31.
As the home team, UNH elected to shoot second in the shootout, which is a opens with a best-of-three-rounds. Allison Szlosek, who did not record a shot in the 65 minutes of regulation and OT, was turned aside by Herman and Faber's shot was stopped by Schaus for a scoreless first round.
Stack opened Round 2, but Herman made a left legpad save. Wakefield shifted left and shot wide of the near post. Thunstrom's bid was denied by Herman with a right legpad save, then Long's shot drove Schaus backwards, but she stopped the shot to extend the shootout into single-round sudden death.
Herman denied Welch, and then Courtney Birchard (Mississauga, Ontario) shot wide right of the goal to send the shootout into Round 5. Meghan Fardelmann's shot was enveloped by Herman's torso to keep BC scoreless, then Bellamy lifted a backhanded shot into the open right side to end the game.
UNH ended the game 1-for-8 on the power play. BC went 2-for-9 with the extra skater.
The Wildcats are now 27-3-2 in season openers, including 6-0-1 in the last seven, and 25-5-2 in home openers with a 5-0-2 mark in the last seven.
New Hampshire returns to action Oct. 11-12 for a two-game series at Niagara University. Both games are at 2 p.m. The Wildcats' next home game is Oct. 18 (2 p.m.) against St. Lawrence University. Tickets are available at the Whittemore Center Box Office, TicketMaster or online at www.unhwildcats.com.
SHOOTOUT SUMMARY:
SHOOTOUT attempt by BC Allison Szlosek MISSED, save Herman, Kayley.
SHOOTOUT attempt by UNH Faber, Sam MISSED, save Molly Schaus.
SHOOTOUT attempt by BC Kelli Stack MISSED, save Herman, Kayley.
SHOOTOUT attempt by UNH Wakefield, Jenn MISSED, save Molly Schaus.
SHOOTOUT attempt by BC Allie Thunstrom MISSED, save Herman, Kayley.
SHOOTOUT attempt by UNH Long, Micaela MISSED, save Molly Schaus.
SHOOTOUT attempt by BC Danielle Welch MISSED, save Herman, Kayley.
SHOOTOUT attempt by UNH Birchard, Courtney MISSED, save Molly Schaus.
SHOOTOUT attempt by BC Meghan Fardelmann MISSED, save Herman, Kayley.
SHOOTOUT attempt by UNH Bellamy, Kacey MADE off Molly Schaus.