UNH CAPTURES FOURTH CONSECUTIVE WHEA TITLE WITH 2-1 WIN OVER BC
UNH senior defenseman Kacey Bellamy names Pure Hockey Most Valuable Player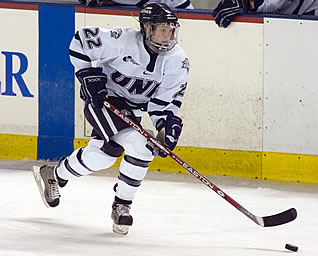 Kacey Bellamy was named the tournament's MVP
DURHAM, N.H. - Led by Tournament MVP Kacey Bellamy (Westfield, Mass.) and All-Tournament Team selections Courtney Birchard (Mississauga, Ontario), Micaela Long (South Boston, Mass.) and Kelly Paton (Woodstock, Ontario), the fifth-ranked University of New Hampshire women's ice hockey team captured the 2009 Women's Hockey East Championship Tournament title Sunday afternoon with a 2-1 victory against sixth-ranked Boston College at the Whittemore Center.
OTHER LINKS:
Game Video Highlights Courtesy of NESN
Video: Sonny Watrous interviews UNH Head Coach Brian McCloskey
Video: Sonny Watrous interviews Tournament MVP Kacey Bellamy
Video: Sonny Watrous interviews BC Head Coach Katie King

UNH Postgame Audio (McCloskey, Bellamy, Birchard, Paton) (mp3)
BC Postgame Audio (Katie King) (mp3)
UNH, the tourney's top seed, extended its winning streak to 15 games and its home unbeaten streak to 30 games (26-0-4) to win its fourth consecutive league tournament title and improve to 24-5-5 overall this season. BC, the second seed that entered the championship game with an eight-game unbeaten streak (6-0-2), is now 22-8-5. The Wildcats receive the league's automatic bid to the NCAA tournament by virtue of the league title while BC awaits an at-large invitation.
Paton extended her point-scoring streak with her second two-assist effort of the weekend. Bellamy and Long both recorded a goal in both tourney games and Birchard had an assist in both games.
UNH goaltender Lindsey Minton (Richardson, Texas) kept the Eagles scoreless for more than 53 minutes before surrendering a goal and made 11 of her 20 saves in the second stanza.
BC goalie Molly Schaus was credited with 20 saves. She and teammate Kelli Stack completed the All-Tournament Team.
Bellamy gave the 'Cats a 1-0 lead for the second time in as many days when she rifled a shot from the left circle into the net at 10:40 of the first period. Birchard initiated the scoring sequence high on the right wing. She moved the puck to Paton at the right point and shifted to the high slot to receive a return pass. Birchard then sent a pass left to Bellamy, who drifted deeper into the left circle before shooting on goal.
BC was held without a shot for the opening 12:30 of the game, but suddenly produced a dangerous scoring chance when Stack was stoned by Minton at the left doorstep and Allie Thunstrom was also foiled by Minton in front off the rebound.
New Hampshire began a 5-on-3 power play at 13:38 and needed just 22 seconds to capitalize and extend its lead to 2-0. Birchard, on the right side, sent the puck across the slot to Bellamy, whose screened shot caromed off the left post. Sam Faber (Mt. Sinai, N.Y.) corralled the puck and lifted a shot across the goal mouth off the right post. Paton, on the right doorstep, could not push the puck into the open right side but Long charged in to sweep it into the cage to mark the sixth consecutive game in which the 'Cats have netted a power-play goal.
In the 17th minute, Thunstrom broke in behind the UNH defense down the slot. Bellamy, however, chased Thunsrom down and poke-checked the puck aside before the BC forward could shoot.
UNH carried that 2-0 lead and a 10-2 shot advantage into the first intermission.
Boston College went on its first power play of the game at 2:59 of the second stanza. One minute later, Mary Restuccia's shot from deep in the left circle was blocked down by Minton. Off the rebound, Meghan Fardelmann's shot at the left doorstep ricocheted off the UNH goalie high into the slot, where Stack played the puck with a high stick into the net, therefore disallowing the goal.
Near the conclusion of that power play, Stack's attempt from deep on the right side was turned aside by Minton and, off the rebound, a UNH skater blocked Restuccia's shot from the slot.
In the seventh minute, UNH generated a 3-on-2 rush in which Paton, with her back to the net, lifted a backhander towards the left post that Schaus stopped with her right leg pad.
With the Wildcats on their third power play of the game, Bellamy sent an indirect pass to spring Faber on a break up the left wing. From the left point, Faber forwarded the puck to Long, who stickhandled across the hash marks of the slot and wristed a close-range shot wide right.
BC pressured late in the stanza (with 2:30 remaining), but Minton preserved New Hampshire's 2-0 lead with an acrobatic glove save on Restuccia's bid from the low slot.
Minton stood strong again in the seventh minute of the third period when she stopped Thunstrom at the left doorstep and stood her ground to engulf Restuccia's attempt off the rebound.
In the 10th minute, the Wildcats generated a dangerous scoring chance when Angela Taylor (Paisley, Scotland) skated onto a loose puck and rocketed a slap shot from the left faceoff dot that was blocked by Schaus' right shoulder and carried into the right corner.
The Eagles pulled within 2-1 at 13:22 of the final frame when Fardelmann, alone in the high slot, blasted a high shot that hit Minton's right shoulder and popped in the air behind her to land in the net. Becky Zavisza, with the pass that sent Fardelmann alone into the offensive zone in transition, was credited with an assist.
The Wildcats generated a 1-on-1 breakaway opportunity with 4:20 remaining in the game when Birchard, from her defensive zone, connected on a tape-to-tape pass with Faber at the opposite blue line. Faber skated down the slot, deked Schaus and pushed a shot wide left of the cage.
BC pulled Schaus in favor of an extra skater with one minute to play, but she had to re-enter five seconds later when the Eagles were whistled for a hand pass in the offensive zone. She went to the bench again with 44 ticks on the clock, but UNH cleared the puck out of the zone 11 seconds later.
Faber slowly advanced the puck through the neutral zone and, against two defenders, fired a shot from the high slot towards the empty net that was blocked into the left corner with 22 seconds to play.
BC reentered the offensive zone with 15 seconds left. Stack shot wide from the top of the right circle and Thunstrom, at the top of the crease, was denied by Minton in the waning seconds.
UNH is now 4-2 in Hockey East title games and that includes 2-0 vs. Boston College; the Wildcats defeated the Eagles 6-0 in '06; the 'Cats are 10-3 overall in Hockey East postseason play. BC is 0-2 in league title games.
New Hampshire is 64-0-9 vs. Hockey East teams at the Whittemore Center since the inception of the league in the 2003 season.
The Wildcats are now 7-0-2 in their last nine games vs. nationally-ranked teams.
---
BELOW IS A LIVE BLOG FROM TODAY'S CHAMPIONSHIP GAME:
2:50 p.m. Pure Hockey Tournament Most Valuable Player is UNH senior defenseman Kacey Bellamy.
2:49 p.m. All-Tournament Team: G-Molly Schaus (BC); D-Courtney Birchard (UNH); D-Kacey Bellamy (UNH); F-Micaela Long (UNH); F-Kelli Stack (BC); F-Kelly Paton (UNH).
2:44 p.m. Shots on goal in the third period: BC-9; UNH-4. Final totals for the game: BC-22; UNH-21.
2:44 p.m. With the win, UNH earns its fourth consecutive Women's Hockey East Championship. UNH will get an automatic bid into the NCAA Tournament. The NCAA tournament field will be announced later tonight. BC is in a strong position to make the NCAA's as well.
2:43 p.m. Minton makes left pad save and Wildcats hold on for the 2-1 win.
2:42 p.m. Schaus off again ... Faber's empty net bid is blocked.
2:41 p.m. Schaus leaves for extra-attacker but has to go back in after BC handpass. 50 seconds left.
2:40 p.m. 1:30 left ... UNH leads 2-1
2:39 p.m. Deja vu ... another UNH icing ... 2:14 left in third
2:38 p.m. Another icing on UNH ... now 2:36 left
2:36 p.m. Icing on UNH ... BC uses its timeout with 3:09 to play.
2:34 p.m. Sam Faber gets breakaway but loses the puck on the stickhandle ... puck just rolls to left corner.
2:33 p.m. Puck trickles into UNH crease ... scrum ensues but Minton has it covered. Under 5:00 to play in third.
2:30 p.m. BC scores!! Meghan Fardelmann pots the goal with Becky Zavisza getting the assist. 6:38 to play in third. Now a 2-1 game.
2:26 p.m. Now Schaus stops Julie Allen on the doorstep ... about 8:00 to play
2:24 p.m. Point shot off the stick of Raylen Dziengelewski gloved by Molly Schaus
2:23 p.m. Icing on BC brings the face-off to the Eagle zone with 9:30 to play.
2:19 p.m. 11:45 left in third ... UNH without a shot on goal in the period.
2:17 p.m. Once again Allie Thunstrom leads a charge and sends one into the crease. Minton makes the stop and then also denies Restuccia on the rebound.
2:17 p.m. Once again Allie Thunstrom leads a charge and sends one into the crease. Minton makes the stop and then also denies Restuccia on the rebound.
2:15 p.m. Pace of play in third a little tentative from both sides. 13:45 remaining in third period.
2:13 p.m. 15:50 remaining in third period ... still 2-0
2:10 p.m. Allie Thunstrom makes a good power move to the front of the net from the right circle but has two shots stopped by Minton.
2:09 p.m. 18:17 to play in third period. Icing call on UNH.
2:07 p.m. Third period begins!!
1:51 p.m. Second period ends ... UNH leading 2-0 ... shots on goal in the second period - BC with 11 and UNH with 7 ... total shots on goal through two periods: UNH 17, BC 13.
1:49 p.m. 48.1 second left in second ... UNH ices puck face off in Wildcat zone ... Kelli Stack walks right to front of net off faceoff but is denied by Minton.
1:46 p.m. Mary Restuccia just got robbed by Minton. Kelli Stack was behind the net and fed Restuccia in the slot, but Minton snared the shot with her glove.
1:44 p.m. BC's power-play ends ... best chance came for Alison Sziosek late on the power play but her shot was stopped by Minton. 3:02 left in second.
1:38 p.m. Power play is over ... still 2-0 ... 5:55 to play in second period ... UNH's Birchard picks up penalty for Body Checking
1:38 p.m. BC's Brie Baskin to penalty box for Hit from Behind. UNH starts its third power-play of game. 1 for 2 on the power play so far in game.
1:37 p.m. 8:43 to play in middle period ... Wildcats holding a 2-0 lead.
1:35 p.m. BC's Becky Zavisza forces a neutral zone turnover and gets a wrist shot away as she crosses in to zone that is stopped by Minton.
1:34 p.m. Sam Faber redirects a Bellamy slap shot wide.
1:32 p.m. Some Internet connection issues with the wireless here at the Whitt ... hopefully back on track now. 11:26 to play in second period, still 2-0 for UNH.
1:26 p.m. Fardelmann's sharp angle shot is stopped by Minton with rebound chipped wide.
1:23 p.m. 16:06 left in second period ... BC has goal disallowed - knocked in with high stick. Play being reviewed ... No goal.
1:21 p.m. 17:01 left in second period ... BC will get its first powerplay as Kelli Stack was hoked down by Kacey Bellamy.
1:19 p.m. UNH's Kelly Cahill feeds Julie Allen at right side of crease but Schaus makes the stop.
1:17 p.m. Second period begins!!
1:01 p.m. First period ends ... UNH with a 2-0 lead. UNH gets 10 shots on goal, BC gets 2 shots on goal.
12:59 p.m. Kacey Bellamy with a great backchecking effort breaks up Allie Thunstrom on a partial breakaway.
12:57 p.m. UNH gets a couple of more bids on the remainder of the power-play but the game stays at 2-0 with about 4:00 left to play in first period.
12:55 p.m. And UNH capitalizes on a bouncing puck in the crease ... Sam Faber got it to the front and a couple of 'Cats had swipes at the puck in the crease ... Kelly Paton also assisting. Micaela Long basically dove at the puck and pushed it into the cage. 2-0 Wildcats with 6:00 to play in first period.
12:54 p.m. Meghan Fardelmann also on her way to the box with Body Chacking penalty. UNH to a 5 x 3 for about a minute.
12:53 p.m. UNH goes to power-play with Mary Restuccia off for cross-checking.
12:52 p.m. Scrum at left side of UNH net ... BC's Kelli Stack gets first shot and Allie Thunstrom gets a chance at the rebound. Both stopped by Minton.
12:49 p.m. 7:56 remaining in opening period ... UNH outshooting BC 6-0 in game.
12:46 p.m. Kelly Paton and Sam Faber combine to set up Kacey Bellamy in the left wing circle. Bellamy's shot looked like it caromed off something in front before getting past Schaus. It is Bellamy's second goal of the weekend.
12:46 p.m. Wildcats grab a 1-0 lead!! 9:20 to play in first period.
12:44 p.m. Micaela Long backhander stopped by Schaus ... 9:56 left in first period
12:42 p.m. 12:00 to play in first period ... Wildcats with a 4-0 shots-on-goal advantage
12:40 p.m. A couple of Wildcat bids in close are stopped by Schaus.
12:39 p.m. BC's first chance also comes from a turnover as Danielle Welch picks off a pass along right boards and gets a shot away that was going wide, but was gloved by Minton anyway.
12:37 p.m. UNH's Sam Faber intercepts a BC breakout pass, walks to the front and gets the games first shot on goal ... Schaus makes the stop and covers for the game's first whistle. 15:30 to play in opening period.
12:36 p.m. Good chance for UNH but Angela Taylors shot from the slot goes wide ... then a Kacey Bellamy point shot is tipped wide - 16:00 to play in the first.
12:33 p.m. Two minutes into the game - no shots yet. No whistles either.
12:31 p.m. Game underway!!!
12:28 p.m. Other starters: UNH - Micaela Long (LW); Kelly Paton (C); Sam Faber (RW); Courtney Birchard(LD) and Kacey Bellamy (RD)
12:26 p.m. Other starters: BC - Mary Restuccia (LW); Kelli Stack (C); Allie Thunstrom (RW); Stephanie Olchowski (LD) and Katelyn Kurth (RD)
12:24 p.m. The goaltender match-up in this one - BC's Molly Schaus,who was superb against BU yesterday with 36 saves. And maybe a bit of a surprise on the UNH side, it will be freshman Lindsey Minton.
12:21 p.m. If Wakefield does not play, UNH will skate eight forwards and five defenders in the game. BC will also go with five defenders, but has four full forward lines.
12:19 p.m. While UNH's Jenn Wakefield is on the line chart today ... it is doubtful that she will play after spraining her ankle last week. But we'll keep our eye on the bench.
12:16 p.m. Boston College comes into the game on an eight-game unbeaten streak. UNH has a 14-game winning streak entering today's game. The Wildcats went 2-0-1 vs. the Eagles this season.
12:15 p.m. UNH also has their radio network covering the game ... you can listen live at UNH on Yahoo Broadcast
12:13 p.m. Don't forget this game will be televised on NESN on a tape-delay basis at 4 p.m. this afternoon.
12:11 p.m. Top-Seeded UNH is playing in its fourth consecutive league title game and its sixth appearance (in seven seasons) in the championship game. BC is playing in its second title game. These two teams met for the championship in 2006 when UNH won its first WHEA title with a 6-0 win.
12:02 p.m. Both teams on the ice in their pre-game warm-ups.