PATON, FABER LEAD WILDCATS PAST EAGLES, 5-2
Kelly Paton nets hat trick; Sam Faber reaches 100-assist milestone for Wildcats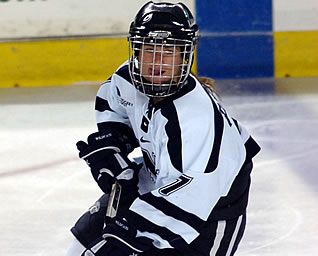 Kelly Paton had a hat trick for for the Wildcats
CHESTNUT HILL, Mass. - The Boston College women's ice hockey team was defeated at home Friday night by the #7 University of New Hampshire 5-2.
The loss drops the Eagles (16-7-3, 10-5-1) to second place in the Hockey East standings, two points behind No. 1 New Hampshire (15-5-5, 9-2-4). The loss marks only the second of the season for BC at Conte Forum. It is the first time BC has dropped back-to-back games all season. UNH takes the season series 2-0-1.
The game was part of Women's Hockey East's 3rd Annual "Skating Strides Against Breast Cancer" event. The Eagles raised over $5000 for the Friends of Mel's Foundation to help fund research and raise awareness of the disease.
The Wildcats netted three goals in the opening frame before BC answered in the form of Meghan Fardelmann (Lansing, KN) at 18:53. Fardelmann netted her seventh goal of the season with a slapshot that beat UNH freshman goalie Lindsey Minton, of a dish from Stephanie Olchowski (Greenfield, Mass.). UNH responded less than a minute later with a fourth goal to give them a 4-1 lead to end the first period.
Head Coach Katie King made a goaltender change at the start of the second period, swapping out starting goaltender Molly Schaus (Natick, Mass.) in favor of freshman netminder Kiera Kingston (Trumbull, Mass.). Kingston held UNH scoreless in the second stopping four shots to keep the score stalled at 4-1 to start the third.
BC managed to cut the Wildcats lead in half less than five minutes into the final frame off of Danielle Welch's (Hastings, MN) shot from the top of the crease off of Lauren Wiedmeier's (Ft. Lauderdale, FL) dish from outside the face-off circle.
UNH netted goal number five late in the third by breaking up BC's powerplay, the Wildcats Kelly Paton caught a breakaway pass and streaked toward the BC zone netting her third goal of the game and giving New Hampshire a three goal lead.
The Eagles put 27 shots on net to UNH's 25 but were held scoreless on the powerplay.
BC continues their Hockey East and home game schedule next weekend with tilts against the University of Maine on Saturday February 7 and Sunday February 8 at 1 p.m.