BOSTON COLLEGE FALLS TO ST. LAWRENCE, 4-2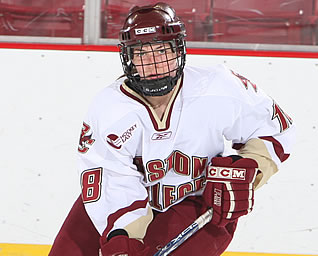 Meghan Fardelmann scored a goal for the Eagles
CANTON, N.Y. - The No. 7 Boston College women's ice hockey team was defeated by No. 5 St. Lawrence 4-2 earlier this evening.
The Saints got on the board early notching the first goal of the game nine seconds into the first frame. Senior forward Meghan Fardelmann evened the score with her fifth goal of the season on the powerplay at 14:07 in the first to send the teams into the break tied.
The Eagles took their only lead of the game at 8:38 in the second off of Allie Thunstrom's tenth notch of the season with the assist registered to linemate Kelli Stack to give BC the 2-1 lead.
Despite netminder Molly Schaus's 32 saves on the night the Eagles were unable to stop St. Lawrence from scoring three unanswered goals to put them up 4-2 and give them the win.
BC and St. Lawrence face-off again on Saturday afternoon at 3 p.m.