Saturday, October 11, 2008
BOSTON COLLEGE DEFEATS RENSSELAER, 5-2
Mary Restuccia has two goals and assist for Eagles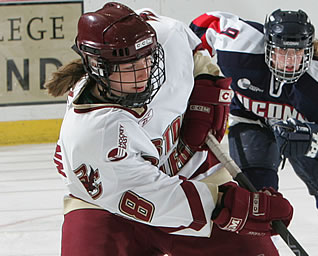 Meghan Fardelmann had two assists for the Eagles
CHESTNUT HILL, Mass. - The Boston College Women's Ice Hockey team defeated the Renesselaer Polytechnic Institute 5-2 on in a Saturday matinee at Kelley Rink.
The Eagles got the scoring starting early, when Kelli Stack netted her fifth goal of the season nine minutes into the frame to put BC on top 1-0.
The freshman class made big contributions for BC in the second period. Forward Andrea Green netted her first collegiate goal with assists from fellow Meghan Fardelmann and fellow first year Mary Restuccia.
Green's fellow Minnesotan Danielle Welch got in on the scoring action with a power play goal at 9:10 in the second period. Defensemen Kaitlyn Kurth and Stack were credited with the assist.
RPI got on the board at the end of the second netting a power play goal to send the teams into the locker rooms with the Eagles leading 3-1.
BC answered four minutes into the third frame, when Restuccia assisted by Fardelmann and freshman blueliner Kristin Regan scored her first collegiate goal.
The Engineers countered with their second goal of the game halfway through the third period to cut BC's lead down to two.
RPI pulled their goalie with three minutes remaining for the extra skater, putting pressure on Eagles goaltender Molly Schaus. Schaus made 21 saves on the day.
The Eagles added to their lead with an empty netter by Restuccia to close the door on RPI and give them their second win of the season.
BC has a two week break before resuming action against Hockey East foe on the road Saturday October 25 against Providence at 2 p.m. and Sunday October 26 at home against the Quinnipiac Bobcats at 2 p.m.