BOSTON COLLEGE SHUTS OUT QUINNIPIAC, 4-0
Kelli Stack registers three-point game for Eagles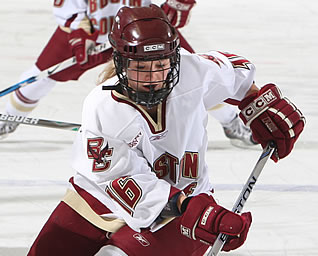 Kelli Stack had two goals and an assist for BC
CHESTNUT HILL, Mass. - The #7 Boston College Women's Ice Hockey team defeated Quinnipiac University 4-0 with a two goal effort by forward Kelli Stack and a shutout by the Eagles goaltenders.
Junior Kelli Stacked kicked off the scoring for the Eagles just 1:09 into the first period. Stack skated around the Quinnipiac zone and brought the puck across the net, slipping it past the Bobcats goaltender for her sixth goal of the season.
Senior forward Meghan Fardelmann ended the first period by netting an unassisted powerplay goal at 19:02 to give the Eagles a 2-0 lead to close out the first frame.
Stack notched her second goal of the game assisted by freshman forwards Danielle Welch and Mary Restuccia on the Eagles powerplay at 18:44 in the second period. The goal marked Stack's team leading fourth powerplay goal and seventh goal of the season. BC was 2-6 on the powerplay for the day.
Forward Allie Thunstrom assisted by Stack and defenseman Kaitlyn Kurth slammed the door on the Bobcats in the third period, notching her third goal of the season at 8:48 in the frame.
Goaltending duties for the day were shared among all three netminders, as Molly Schaus started the game and made nine saves on the day. Freshman Kiera Kingston saw the first action in her career after she relieved Schaus in the middle of the second period making two saves in her collegiate debut. Sophomore netminder Amanda Rothschild assumed goaltending responsibilities in the third period also making two saves in her season debut.
BC gets back to Hockey East action on Friday October 31, at 2 p.m. when they face the visiting University of Vermont Catamounts at Kelley Rink.