Friday, February 20, 2009
BOSTON COLLEGE EARNS SECOND SEED WITH 5-1 WIN AT PROVIDENCE
Kelli Stack registers four assists for Eagles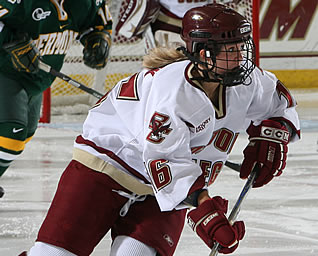 Kelli Stack had four assists for the Eagles
Providence, R.I. (February 20, 2009) - Providence College women's hockey hosted No. 6 Boston College and fell, 5-1. Senior Mari Pehkonen (Tampere, Finland) scored the lone goal for Providence. With the loss, Providence falls to 16-15-2 (11-8-1 HE) while Boston College improves to 21-7-4 (14-5-1 HE).
The senior class of 2009 was recognized before the game but the celebration wouldn't last as BC jumped on top just 16 seconds into the game on an Allie Thunstrom tally from the right side. Kelli Stack and Mary Restuccia assisted on the goal. The trio would strike again at 16:25 with Restuccia putting home the goal after a save from Danielle Ciarletta (Blaine, Minn.) fell into the slot. BC would go up 3-0 at 1934 on Thunstrom's second of the game. Providence went into the locker room down, 3-0, and never recovered.
Coming out for the second, PC made a goalie swap putting freshman Genevieve Lacasse (Scarborough, Ont.) into the cage but the eagles found the back of the net at 1:25 to go up 4-0 on a goal from Shannon Webster. The lone bright spot of the game for Providence came at 9:05 when freshman Ashley Cottrell (Sterling Heights, Mich.) sent a faceoff to Pehkonen who fired a wrister that beat BC's Molly Schaus blocker side to make it 4-1. The Eagles' Maggie Taverna would add a third period goal to give BC a 5-1 victory. Lacasse made 17 saves in two periods of action but Ciarletta received the loss as she falls to 2-5-2 on the season. Schaus made 21 saves and she improves to 21-6-4.
The two teams will finish the season series tomorrow at BC with the puck dropping at 1:00 p.m.