Friday, November 28, 2008
BOSTON COLLEGE TIES PRINCETON, 3-3
Mary Restuccia nets game-tying goal for Eagles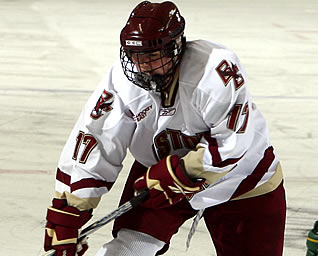 Danielle Welch assisted on the game-tying goal for BC
Chestnut Hill, MA - The Boston College women's ice hockey team tied Princeton University 3-3, Friday afternoon at Kelley Rink.
The tie gives the Eagles a 3-1-2 record against ECAC teams for the season and a 3-2-1 record for the month of November.
BC struck first when Megan Shea netted her fourth goal and second power play goal of the season off of Kelli Stack's redirected pass from outside the faceoff circle. Princeton goalie Kristen Young put her glove down for the save when the puck hit the ice and bounced over her and into the back of the net.
Both teams played evenly through the remainder of the first frame with the Eagles having a slight advantage in shots 9-8.
Princeton tied the score in the second period when Melanie Wallace's initial shot bounced off Molly Schaus's pad and was knocked in by Paula Romanchuk at 10:33.
The Eagles answered minutes later scoring the go-ahead goal at 14:52 off a pass across the crease from Stack to Lauren Wiedmeier to give BC the lead to end the second period.
Princeton re-tied the game at just over six minutes into the third on a powerplay to bring the two teams even for the second time in the game.
The lady Tigers took the lead for the first time in the game on Christine Foster's breakaway that beat Schaus on her gloveside to put Princeton on top 3-2.
Coach Katie King pulled Schaus for an extra skater on the BC power play and was rewarded with Mary Restuccia's game-tying goal at 18:34 in the third.
BC and Princeton skated through a five minute overtime with three shots for the Eagles to the Tigers two but couldn't put it away and the two teams skated to a 3-3 tie.
The Eagles are back in action at home on Sunday November 30 at 2 p.m. against Hockey East rival Northeastern University to close out the month.