Sunday, November 30, 2008
SCHAUS, BOSTON COLLEGE SHUT OUT NORTHEASTERN, 2-0
Molly Schaus posts shutout with 27 saves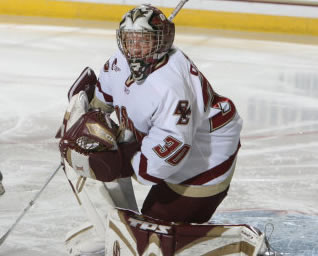 Molly Schaus earned a shutout with 27 saves for BC
Chestnut Hill, MA - The Boston College women's ice hockey team shutout Northeastern University for the second time in the 2008-09 season, 2-0 on Sunday afternoon at Conte Forum.
The victory gives the Eagles a 4-3-1 record for the month of November and 6-2-1 Hockey East record.
The Eagles have not allowed Northeastern to score a goal since 14:09 into the 3rd period of the 2008 Women's Beanpot Consolation game.
BC controlled the puck from the beginning, winning the opening face off and corralling the puck on the Eagles end of the ice. The first line of Kelli Stack, Allie Thunstrom and Mary Restuccia brought the puck up through the neutral zone and into Northeastern territory where Restuccia dodged the Northeastern defender and slid the puck across the crease to Stack who was waiting in the corner for the tip in 23 seconds into the game.
The early excitement of the first minutes gave way to a quiet first period with BC having a 12-9 shot advantage.
A scoreless second period followed with neither team able to capitalize on their powerplay opportunities and BC entered the first period with a 1-0 lead.
The Eagles padded their lead six-and-a-half minutes into the third with Danielle Welch netting her sixth goal of the season with assists to Colleen Harris and Becky Zavisza to give BC a 2-0 lead that they would hold onto for their ninth win of the season.
Junior netminder Molly Schaus made 27 stops for her fourth shutout of the season and a BC record 11th of her career.
The Eagles continue their Hockey East schedule on Friday December 5 at 7 p.m. when they travel to Storr, Conn. to wrap up the regular season series against the University of Connecticut.