Saturday, November 1, 2008
THUNSTROM LEADS BOSTON COLLEGE PAST NORTHEASTERN, 5-0
Allie Thunstrom posts four-point game for Eagles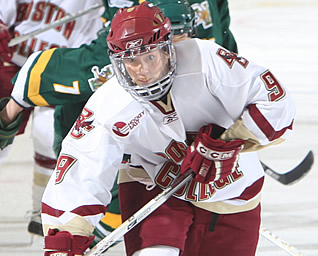 Allie Thunstrom had two goals and two assists for BC
BOSTON, Mass. - Junior forward Allie Thunstrom scored two goals and added two assists to lead Boston College to a 5-0 win against Northeastern on Saturday afternoon at Matthews Arena.
Northeastern drops to 5-1-2, 2-1-0 HEA with the loss.
BC fore-checked agressively early in the first period, and the Huskies had trouble clearing their zone on several occasions. By keeping the puck pinned in Northeastern's zone, the Eagles got a number of good looks at the goal. Leah Sulyma came up big early on, keeping the Huskies in the game in the first two minutes by making a save on an Eagles' two-on-none breakaway. The Huskies hung with BC until 11:26 in the first period, when NU miss-played a puck in their attacking zone. BC's Allie Thunstrom picked it up and carried it the length of the ice. She made a move left, drawing the lone NU defender who had back-tracked to break up the play. Thunstrum then dished the puck to the slot, where a trailing Danielle Welch was able to get a stick on it and slide the puck into the open net past Sulyma. The goal ended a seven-game NU streak in which the Huskies had not allowed a five-on-five goal.
Boston College got on the board again early in the second period, when Thunstrom found Kelli Stack, who beat Sulyma to extend the Eagles' lead. BC added a third goal at 8:10 in the third, this time with Thunstrom on the scoring end.
The Huskies pressed the offensive in the third period, pushing several players forward in search of a first goal. As a result, NU gave up several odd-man rushes late in the period. BC capitalized twice on such opportunities, with Meghan Fardelman and Thunstrom adding third period goals to pad the Eagles' lead. Northeastern goaltender Leah Sulyma made 30 saves on the evening, but Boston College leveraged a 35-16 shot advantage, and Sulyma could not keep the Huskies in the game for all 60 minutes.
Before the game, the Huskies and Northeastern Athletic Director Peter Roby honored the memory of student Athletic Trainer Becca Payne, who passed away last May. Payne's parents Nick and Virginia were present for a brief ceremony at center ice while sophomore forward Kristi Kehoe read a tribute to Payne.