Thursday, January 15, 2009
BOSTON COLLEGE UPENDS NORTHEASTERN, 4-2
Mary Restuccia has two goals and assist for Eagles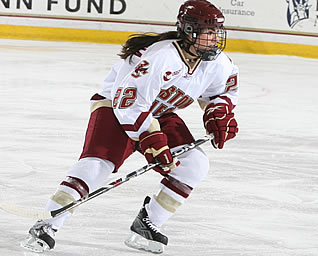 Mary Restuccia had two goals and an assist for BC
BOSTON, Mass. - Northeastern played close with Boston College, and the two teams were tied at one point, but Boston College pulled away, and handed Northeastern a 4-2 loss at Matthews Arena.
OTHER LINKS: Katie King Audio (mp3) - Dave Flint Audio (mp3)
Boston College got on the board first when a a Kelli Stack slapshot from the point found its way though traffic and into the upper left corner, over the shoulder of NU goalie Florence Schelling.
Midway through the period, Meghan Fardelmann was whistled for a five-minute major penalty for a hit from Behind on Ginny Berg, and was assessed a game misconduct as well. On the ensuing five-minute pwoerplay, BC fore-checked aggressively and kept the puck pinned in the NU zone. The Huskies got some good shots on goal, but were unable to turn the extended man advantage into an equalizing goal.
Mary Restuccia put the Eagles in front by two early in the second, assisted by Stack and Allie Thunstrom. But Lindsay Berman would answer back, bringing the Huskies to within one by scoring her third goal in four games. Set up in front of the net, Berman got a hold of the rebound off of a Katy Applin shot and beat BC goaltender Molly Schaus with a quick shot.
Alyssa Wohlfeiler evened things up less than five minutes later. ALi Bielawski sprung Kristi Kehoe with a pass into the attacking zone, and as the defense collapsed around her, Kehoe dished it to Wohlfeiler on the right post. Wohlfeiler made a strong move back to the left post, and buried the puck in the open net.
The Huskies' momentum was dealt a blow when Kasey Cedorchuk was whistled for tripping at 15:27 in teh second. The officials ruled she tripped Restuccia on a breakaway attempt, and awarded Restuccia a penalty shot, which she converted.
Northeastern struggled to regain their offensive energy afterwards, and surrendered a fourth goal to Thunstrom early in the third period, and they would not chip into the lead any further.
Northeastern drops to 10-9-2 (5-5-0 HEA) with the loss, and continues Hockey East play Sunday against New Hampshire